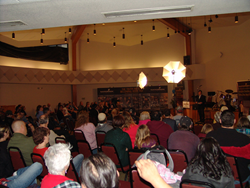 On the evening of Saturday the 8th of March, 2014, Narconon Arrowhead hosted a 48th Anniversary Event of the First Narconon Program at their beautiful facility in Arrowhead State Park just outside Canadian, Oklahoma.
Canadian, Oklahoma (PRWEB) March 10, 2014
On the evening of Saturday the 8th of March, 2014, Narconon Arrowhead hosted a 48th Anniversary Event of the First Narconon Program at their beautiful facility in Arrowhead State Park just outside Canadian, Oklahoma. In a picturesque setting overlooking the expansive Lake Eufaula, community members, friends and graduates of the Narconon drug rehabilitation program came together to hear special guest speakers, and enjoy music and appetizers amongst friends and peers.
A Long History of Success
Since its humble yet rather extraordinary beginnings, the Narconon program has been consistently and successfully helping individuals get off drugs since 1966.
On August 2nd of 1965, William Benitez, an inmate at Arizona State Prison, marked his calendar with his decision to set-up a narcotics foundation, one which would become the Narconon Program we know today.
While his initial decision was made on that day in 1965, it was not until February of 1966 that prison officials allowed him to deliver a drug rehabilitation service within the prison walls. Once granted the needed permission to move forward, Benitez began offering classes based on what he had learned from his diligent study of Scientology: The Fundamentals of Thought, a book written by American author and humanitarian, L. Ron Hubbard.
Benitez used his newly gained understanding of thought and the human mind to begin helping other incarcerated addicts overcome their addiction, just as he had, and the Narconon Program was born.
Throughout the years since, Narconon has continued to expand, evolving from its simple beginnings into a network of over 120 drug prevention and drug-free rehabilitation centers worldwide. The dedicated staff of Narconon have helped to rehabilitate tens of thousands of addicts and continue to work tirelessly to educate millions on the truth about drugs
A New Chapter of Success - Routine Outcome Monitoring
For more than six years, Narconon Arrowhead has been using what is called Routine Outcome Monitoring (ROM) as a means to further improve its quality of service to its clients, demonstrated by improved statistical results.
ROM goes beyond the center's long-time standard practice of consistent follow-up of graduates of the rehab program, using a newly researched and implemented ROM survey questionnaire consisting of 18 common outcome measures, recommended by the Center for Substance Abuse Treatment and the Substance Abuse and Mental Health Services Administration.
According to Narconon Arrowhead Executive Director, Gary Smith, the rehab center's outcome monitoring system goes beyond "just tracking outcomes", it also assists in developing effective discharge planning and aftercare programming." Smith added that Arrowhead's ROM system serves to keep everyone's "eye on the ball" and ensures that client's needs are met, all with a look to saving more lives from drug and alcohol addiction.
CARF Certification
The Commission on Accreditation of Rehabilitation Facilities (CARF) is an independent, non-profit organization with the purpose of promoting the quality, value and outcomes of health and human services by means of a consultative accreditation process. It also seeks to enhance the lives of those persons served by its continuous improvement services. CARF provides its services to about 50,000 programs at upwards of 22,000 locations across the world, including North and South America, Asia, Africa and Europe.
Recently, Narconon Arrowhead again received high marks in its conformance to CARF's standards, continuing its long track record in receiving CARF accreditation.
While any drug treatment facility is required to work diligently to actually rehabilitate people, thereby enabling them to live healthy and drug-free lives, there are drug rehab programs and facilities which produce better outcomes than others.
A key factor in those outcomes is a constant interest in the goal of improving services and delivery and implementing the actions necessary to achieve that goal. CARF's consultative accreditation can very well assist a rehab facility to achieve those improved results, as demonstrated by Narconon Arrowhead's excellence in the drug rehabilitation field.
Narconon Arrowhead's CARF Accreditation Report can be viewed at: http://pr-bg.com/content/view/369350/80/
For more information on Narconon Arrowhead call 800-468-6933 or visit http://www.narcononarrowhead.org.
Sources:
http://www.prweb.com/releases/2013/6/prweb10825051.htm
[http://pr-bg.com/content/view/369350/80/
[http://www.narconon.org/history/