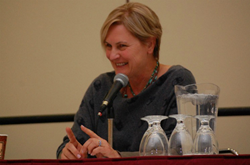 Who's to say what's weird? We're all weird. And the whole thing is to embrace it, and just be who you are.
(PRWEB) March 11, 2014
Over the weekend, TVRage.com's Senior Writer Anthony Marcusa attended Toronto ComiCon 2014, where he joined an audience listening to Denise Crosby detailing her time on 'Star Trek: The Next Generation.' Not only did she talk about stealing food from the 'Cheers' set and meeting J.J. Abrams, but also how much fun they had as a cast.
Here's an excerpt from the panel:
"Before taking fans to the past, Crosby talked about the latest iteration of 'Star Trek,' which comes, of course, on the big screen having been rebooted under the vision of director J.J. Abrams. Crosby happened upon Abrams on afternoon, she recalled, as their respective children just so happened to be competing in a baseball game.
"I'm not going to go up and introduce myself, the guy is here watching his kid play baseball," she remembered thinking. "Only in Hollywood does this happen. A little time went on, I saw him wandering around, and I finally got the courage to go up to him."
Crosby said hello, but she apparently needed no introduction. "'Oh my god, I love Trekkies! Of course I know who you are,'" Crosby explained Abrams' reaction. "We had this great conversation. I was so delighted he knew 'Trekkies' and he was asking me all about conventions and should he go to one and what was it like."
"Then he said: 'we're just beginning to toy around with ideas for the next movie, I'd really like for you to do a part if you want.'" Crosby paused, smirked, and said, "And then I never heard from him again."
The audience laughed, and whether or not Crosby might get a quick cameo in whatever comes next for 'Star Trek' remains to be seen, but she sure was full of stories from 'TNG.'"