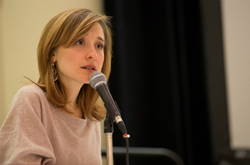 It really felt like an intimate thing we were developing with the audience, and it was a privilege to have the opportunity to develop something from the ground up.
(PRWEB) March 12, 2014
While attending this year's Toronto ComiCon, TVRage.com's Senior Writer Anthony Marcusa was lucky enough to hear Allison Mack discuss her 10 years on the hit series 'Smallville,' including what it was like working with Tom Welling, Michael Rosenbaum and Justin Hartley.
Here's an excerpt from the panel:
"We were really isolated; Vancouver is the land of green, not red carpet," said Mack of 'Smallville,' the hit series that traced the origin and growth of Clark Kent in his pre-Superman days. "We didn't have any paparazzi, any media blitzes. The show took a lot to shoot, it was taxing. We didn't have a lot of time to revel in it, so we were just trying to keep up."
Now, though, Mack gets stopped on the streets and is always amazed and appreciative of the praise. She ventured to Toronto ComiCon, as fans piled in to talk all things 'Smallville,' acting, and superheroes.
"Every time you do the first season of a TV show, they say it's gonna be a huge hit, it's gonna be such a big deal, and then six episodes in, you're canceled," recalled Mack. That wasn't the case with 'Smallville,' of course, which after setting a record for a pilot with The WB (the show was later aired on The CW following a network merger), went on to live for 10 seasons and over 200 episodes."