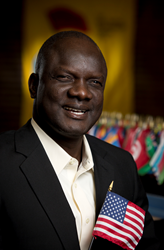 John Dau's journey was the subject of a book he authored and an award-winning documentary produced by Brad Pitt and narrated by Nicole Kidman. Both were titled 'God Grew Tired of Us."'
Syracuse, NY (PRWEB) March 12, 2014
Onondaga Community College alumnus and former "Lost Boy of the Sudan" John Dau, '05 will be recognized in April by a national education association, the American Association of Community Colleges (AACC). Dau will receive the 2014 Outstanding Alumni Award, which is given annually to exceptional community college alumni. Dau is one of only six honorees in the nation this year. He will accept the award April 8, 2014 at the AACC's Annual Convention in Washington, D.C., which is attended annually by nearly 2,000 people. Retired General and former Secretary of State Colin Powell will be the featured speaker. Onondaga Community College President Dr. Casey Crabill will be in attendance.
Dau (pronounced: "dow") is a former "Lost Boy of the Sudan," one of the tens of thousands who were displaced or orphaned by war which ravaged the eastern part of Africa. Dau's 14-year journey began in 1987 at the age of four when the village he called home was attacked and he was forced to flee. Three months later Dau and other survivors arrived in Ethiopia where they banded together. Dau was among 200 boys who stayed there for four years until the Ethiopian government was overthrown and armed forces ordered them to leave along with 37,000 refugees. They fled to South Sudan where they found a United Nations refugee camp. Dau, who was now 17 years old, went to school for the first time there. In August 2001 at the age of 26 Dau came to the United States. One year later he began taking classes at Onondaga along with a group of approximately 80 refugees. In 2005, Dau graduated with an associate of arts degree in Humanities.
Since graduating Dau has dedicated his life to helping others. He is President of the John Dau Foundation, which has 38 employees in Africa. His foundation has raised over $3,000,000 for a medical clinic in South Sudan which it now runs with remarkable results. The clinic has:

Treated more than 119,000 people since opening in 2007.
Vaccinated more than 7,000 children, the first time children there have ever been vaccinated.
Helped more than 8,000 women give birth, the first time women in South Sudan have given birth in a medical facility.
Brought 16 U.S. doctors to South Sudan for eye surgeries on 600 people. They were completely blind but can now see.
In addition, Dau's foundation, which is based in Syracuse, has helped buy books for Lost Boys, and books are at the center of his next big project. "I want to build a library in South Sudan. I enjoyed the library at OCC. I want people to have the same advantage over there," Dau said.
Dau also serves as a motivational speaker and has written two books: "God Grew Tired of Us" and "Lost Boy, Lost Girl," which he co-authored with his wife who is also a refugee. They were in the same refugee camp together before coming to America. Since marrying here they have started a family and now have 3 children.
"God Grew Tired of Us" was also a documentary produced by Brad Pitt and narrated by Nicole Kidman. Dau was one of the main cast members. At the 2006 Sundance Film Festival "God Grew Tired of Us" won the Grand Jury Prize and the Audience Award. You can watch the documentary here: http://www.imdb.com/video/hulu/vi2933562905
"John Dau exemplifies the tenacity and spirit of so many community college students," explained Dr. Walter G. Bumphus, President and CEO of the American Association of Community Colleges. "As a Lost Boy of Sudan, he saw and experienced daily the horrors of ethnic strife in his homeland of South Sudan that only gave him the strength and drive to succeed. The guidance that Onondaga Community College provided him, an immigrant from such a different world than his new home in Syracuse, New York, was a valuable stepping stone on his journey. The American Association of Community Colleges is proud to honor Mr. Dau with the 2014 Outstanding Alumni Award. His perseverance is an inspiration to everyone who wants a better life."
"John Dau's remarkable success and determination to help others represents everything Onondaga Community College stands for," said College President Dr. Casey Crabill. "We provide our diverse student body with access to high quality educational programs that change lives. We salute John for all of his accomplishments. We congratulate him on the national recognition he has earned and so richly deserves, and we are grateful for the inspiration his experience provides. We are so proud that he is part of the Onondaga Community College family."
Dau was honored by Onondaga in 2007 and was inducted into the Alumni Faces display located in the Gordon Student Center.
Onondaga Community College is Central New York's second largest undergraduate college with more than 12,000 students. Onondaga is a two-year college operating under the State University of New York (SUNY) system, and is locally sponsored by Onondaga County. Located on a bustling 280-acre campus atop Onondaga Hill, the community's college remains dedicated to serving the needs of students in ways that help them to explore, discover, and transform. Onondaga offers nearly 50 programs of study, bachelor and master's degrees available on campus through a regional higher education center, and more than 80 transfer agreements with four-year colleges and universities. A 2013 report on "The Economic Contributions of Onondaga Community College" shows student enjoy an attractive 14.4% rate of return on their educational investment and recover all costs in 11 years, while state and local governments see an annual rate of return of 7.8% on their support for Onondaga. The College is home to the seven-time NJCAA national champion men's lacrosse team and the two-time NJCAA national champion women's lacrosse team. The men's team won its fifth consecutive national title in 2013. The women last won the national title in 2012. Onondaga has fifteen intercollegiate men's and women's athletic teams.