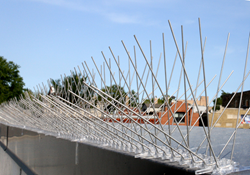 The key in pest bird prevention is to make the area undesirable to birds; if your property is not hospitable, they will simply go elsewhere.
Chicago, IL (PRWEB) March 11, 2014
Spring can mean trouble for businesses with areas prone to bird infestation. Bird-X, Inc. recommends prevention over expelling birds for many reasons, mostly because it's easier, cheaper, and more effective to stop an infestation from starting in the first place.
While many budget-conscious people may decide to wait until after a problem manifests, it can actually cost a great deal more once birds establish their territory. Birds are creatures of habit, and it's more difficult to make them leave once they've moved in.
Not only will there be more cleanup required for bird droppings, feathers, and nests (many of which may be inhabited by eggs or even young chicks), but the birds themselves will become more inclined to stay put. Furthermore in the United States The Migratory Bird Treaty Act prohibits the removal or disruption of native bird nests from properties while inhabited by chicks. Since most birds nest during spring months, it is in everyone's best interest that prevention be considered early in the year.
The first step to prevent birds from moving in is to identify the areas where birds like to roost, nest, and loiter. The easiest indication, of course, is familiarity with the location's pest bird history and where the pest birds may have nested in years prior to migration. Birds of all sorts enjoy areas with steady food supply, shelter, and landing space – ledges and overhangs of buildings, entry ways, signs, and telephone lines are of course likely targets. Any place with bodies of water, roof tops, and parking lots are also highly desirable locations.
Physical barriers, including bird spikes and bird netting, are 100% effective when applied properly at the correct locations.
Other highly effective options include electronic bird control, including sonic and ultrasonic devices, which condition birds to keep away from the area through the use of predator and distress calls and ultrasonic sounds. Ultrasonic sounds annoy the birds, but are not audible to most humans.
Once these locations and bird control methods are identified, the next (and very important) step in any bird control project is cleaning the area of any bird mess, including droppings, feathers, and nests, if they are present. This eliminates the smell and familiar signals they will look for as they return, and will also help your property look much nicer! Wear proper protection if the mess is bad, as bird mess does carry transmissible diseases which can be problematic, even after this unusually cold winter.
Any food source needs to be eliminated; remove any garbage in the area, and post "do not feed the birds" signs for the public if necessary. The key in pest bird prevention is to make the area undesirable to birds; if your property is not hospitable, they will simply go elsewhere.
Bird-X, Inc. is the leading brand of humane pest bird control worldwide since 1964, and is dedicated to protecting human health, wildlife and the environment in which we all live. The Chicago-based company manufactures a complete line of unique pest control products with an unmatched focus on quality, efficacy, and customer service.