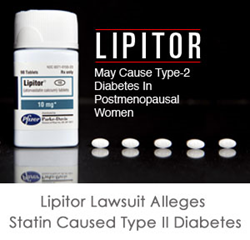 If you have suffered Lipitor side-effects contact the attorneys at Wright & Schulte for a FREE legal consultation by visiting yourlegalhelp.com or calling 1-800-399-0795
Columbus, Ohio (PRWEB) March 11, 2014
A federal judicial panel has decided to establish a multidistrict litigation for all federally-filed Lipitor lawsuits that allege use of the statin drug caused plaintiffs to develop Type 2 diabetes, Wright & Schulte LLC reports. According to a Transfer Order issued by the U.S. Judicial Panel on Multidistrict Litigation (JPML) on February 18, 2014, dozens of Lipitor diabetes claims filed in federal courts around the country share common questions of fact. The Panel found that centralization of those cases in the U.S. District Court, District of South Carolina will serve the convenience of the parties and witnesses, and promote the just and efficient conduct of the litigation. (In re Lipitor (Atorvastatin) Litigation, MDL No. 2502)
According to court documents, there are now 68 Lipitor lawsuits pending in the new multidistrict litigation. According to the JPML's Transfer Order, there are also at least 170 additional claims pending in 40 other federal districts that would be eligible for transfer to the District of South Carolina.
Lipitor is approved to lower the risk for heart attack, stroke, heart surgery, and chest pain in certain patients with high levels of LDL, or bad, cholesterol. However, a growing body of research has found that statins like Lipitor have the potential to cause Type 2 diabetes, especially in post-menopausal women. This includes a study published in JAMA: Internal Medicine in January 2012 which suggested that post-menopausal women treated with statins may be at higher risk of developing new-onset diabetes. Research that appeared in the British Medical Journal last May found that patients who take Lipitor may face a 22 percent increased risk for developing diabetes.
[archinte.jamanetwork.com/article.aspx?articleid=1108676, JAMA Internal Medicine, January 2012]
[bmj.com/content/346/bmj.f2610, BMJ, May 2013]
In February 2012, the U.S. Food & Drug Administration (FDA) issued a drug safety communication regarding Lipitor and its potential to cause new-onset diabetes. The agency also ordered Pfizer, Inc. to change the Lipitor label to reflect this risk. However, court documents indicate that plaintiffs in Lipitor lawsuits allege that the warnings added to the Lipitor label regarding the drug's potential effects on blood sugar remain inadequate.
[fda.gov/drugs/drugsafety/ucm293101.htm, FDA, February 2012]
Lipitor patients who allegedly developed Type 2 diabetes while using this drug may be eligible to file their own Lipitor lawsuit. To learn more, or to arrange for a free legal consultation with an attorney at Wright & Schulte LLC, please visit yourlegalhelp.com.
About Wright & Schulte LLC
Wright & Schulte LLC, an experienced personal injury firm, is dedicated to the belief that America's legal system should work for the people. Every day, the attorneys of Wright & Schulte LLC stand up for the rights of people who have been injured or wronged and fight tirelessly to ensure that even the world's most powerful corporations take responsibility for their actions. If you're looking for a law firm that will guarantee the aggressive and personal representation you deserve, please do not hesitate to contact Wright & Schulte LLC today. Free Lipitor lawsuit case evaluations are available through yourlegalhelp.com or by calling 1-800-399-0795.
Contact:
Wright & Schulte LLC
1-800-399-0795
http://www.yourlegalhelp.com