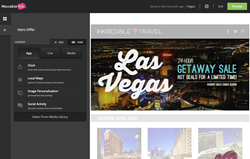 agileEMAIL brings a brand new approach to email marketing that enables brands to create and engage with consumers in a way that they actually enjoy, find valuable, and relevant to them as individuals.
New York, NY (PRWEB) March 10, 2014
Email marketing continues to be one of the most effective tools in a marketers' toolbox, but designing, implementing and measuring campaigns often takes more time than a marketer has to spare. Recognizing this, email technology provider, Movable Ink has launched its newest platform, agileEMAIL. agileEMAIL frees marketers from the conveyer belt approach to email campaign design and execution, allowing them to implement campaigns faster, smarter, measure them more effectively, and make critical adjustments on the fly.
"Email marketing as usual is broken. Marketers are forced to spend too much time on tedious tasks, and too little time being creative. In the end, consumers don't have high expectations for what they're going to receive in their inboxes," said Vivek Sharma, Co-Founder and Chief Executive Officer of Movable Ink. "agileEMAIL brings a brand new approach to email marketing that enables brands to create and engage with consumers in a way that they actually enjoy, find valuable, and relevant to them as individuals."
Designed to easily integrate with any email deployment service or infrastructure, agileEMAIL drives significant increases in email marketing campaign productivity and performance through its unique workflow and content creation tools, powerful testing, targeting, and personalization capabilities, and an advanced analytics suite. The new platform's launch partners include Finish Line, RadioShack, and Time Inc.
Key features and differentiators of agileEMAIL include:
· Concept-to-Code Campaign Creation. The platform's Workflow module enables marketers to import designs and convert them into bulletproof HTML email templates within minutes, shaving off up to 75 percent of usual email coding production hours.
· Real-Time Content. agileEMAIL empowers marketers with the ability to embed content within email messages that never gets stale. Whether through pulling in personalized, live and streaming content, or leveraging Movable Ink's out of the box real-time email marketing utilities, agileEMAIL's Content module allows brands to deliver an actuality-based marketing experience to consumers.
· Hyper-Targeting and Optimization. The platform's Action module takes the concepts of testing, targeting, and personalization to a new level – making marketers not just faster to market, but smarter too. With automated content split tests, real-time geo-targeting, device-targeting, and time-based targeting, and true, individual-level personalization, agileEMAIL enables email marketers to speak to an audience of one, at a massive scale.
· Enhanced Analytics. Open-rates, click-through rates and delivery rates have been the benchmarks by which email marketers have been judged in the past. agileEMAIL Insight module goes beyond these historical metrics, providing deep insights and analytics designed for modern marketers – from understanding the influence of context on action, to cross-channel conversion tracking.
For more information on agileEMAIL, visit http://www.movableink.com/product.
What Movable Ink's clients are saying:
"Agility is a necessity for us at Finish Line, and Movable Ink's agileEMAIL platform has enabled us to come up with new campaign ideas and execute them with speed and ease," said Aaron Buchanan, Email Marketing Manager, Finish Line. "We're able to be relevant in real-time, and instead of becoming frozen at the moment we hit the send button, we now deliver fluid and dynamic content that keeps pace with our active and athletic customer base."
"agileEMAIL brings amazing personalization capabilities to our email channels allowing us to deliver true 1:1 communication," said Jen Nelson, Ecommerce Marketing Manager, XO Group. "Whether through image personalization, or via real-time device targeting to deliver an optimal shopping experience on mobile, the platform has given us a competitive edge to stand out in our customers' inboxes."
###
About Movable Ink
Movable Ink is the leading provider of Agile Email Marketing technology. Since the channel's inception, email has been frozen in time when a marketer hits the "Send" button. With agileEMAIL from Movable Ink, email can now be dynamically updated in real-time based on each recipient's time, location, device, and social context at the moment of open. Hundreds of innovative brands such as American Eagle Outfitters, Seamless, Lilly Pulitzer, and Finish Line use Movable Ink to enhance customer engagement and increase marketing ROI. The company is based in New York City and is backed by Intel Capital, Contour Venture Partners, Metamorphic Ventures, ff Venture Capital, Kima Ventures and email veterans such as Bob Pittman, Andy Russell, Josh Baer, and Alan Laifer. For more information, visit http://www.movableink.com and http://www.pinterest.com/movableink.