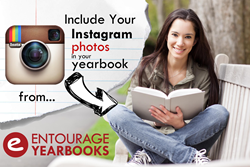 Our website already supported integration with Facebook and with Google+. Adding Instagram was the next logical step for Entourage Yearbooks.
(PRWEB) March 11, 2014
National yearbook company, Entourage Yearbooks, launched integration between their yearbook design website and Instagram on March 3rd, 2014. Now customers who are designing their yearbooks with Entourage Yearbooks have the option to import images directly from their Instagram account onto the pages of their yearbooks.
Entourage Yearbooks implemented this technology to continue providing customers with the easiest and most culturally relevant methods for submitting photos to the yearbook.
According to an article published by ABC News in October of 2013, 18 percent of cell phone owners use Instagram, and Instagram reports having 150 million active users.
Allowing Instagram integration will result in more pictures submitted to the yearbook, and wider coverage of the school year.
"Our website already supported integration with Facebook and with Google+," said Nicole Rossi, Web Development Manger. "Adding Instagram was the next logical step for us."
Entourage Yearbooks develops and manages their online yearbook design software and website with an in house team. This allows for quick updates and implementation of features driven by technological and cultural trends.
" Our team is able to quickly adapt with new technologies that are gaining popularity, and quickly integrate them with our yearbook program," said Rossi. "We understand that Instagram is very popular with Middle and High School students, so it's a great opportunity for us to help more students get involved in their school yearbook."
Students are able to login to the Entourage Yearbooks website, login to their Instagram account, and select the pictures that they'd like to submit to the yearbook. The yearbook staff and advisors will then evaluate the pictures and determine if they will be used in the book.
About Entourage Yearbooks:
Founded in 2005, Entourage Yearbooks provides yearbooks to over 3,500 schools across the US and in 18 countries around the world. Entourage's unique collaborative yearbook technologies and industry leading production times has made the company one of the fastest growing in the country, recently recognized by Inc. Magazine as the 17th fastest growing private education company in the US. For more information about Entourage Yearbooks, visit http://www.entourageyearbooks.com.