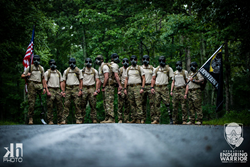 OEW's mission aligns perfectly with our brand and our mission to disconnect with standard outlets and reconnect with life, while supporting our wounded combat veterans, some of our nation's most deserving individuals.
Omaha, NE (PRWEB) March 11, 2014
Just in time for March Madness, Powerocks, the world's top line of portable chargers, launches a Powerocks Madness promotion. Beginning March 10, 2014, participants can go to powerocksmadness.com, and create their login profile and March Madness bracket where they can select teams, win prizes, and support our troops through a veteran-founded charity in the process; Operation Enduring Warrior.
After the March Madness Tournament teams are announced on Selection Sunday, March 16, participants can come back to powerocksmadness.com and select their picks. All picks must be submitted by the start of the first tournament game on March 20. Participants can return to the site as much as they want to track their picks, interact on the bracket message board and view pool standings.
Prizes will be awarded to those participants who earn the most points. Participants will be ranked for 1st, 2nd, and 3rd place prizes. 1st prize is a $1,000 wireless accessories package, 2nd prize is a $750 wireless accessories package and 3rd prize is a $500 wireless accessories package.
In support of Operation Enduring Warrior, (OEW) one dollar will be donated for every bracket created, up to $1500. If a participant secures a perfect bracket, $10,000 will be donated to Operation Enduring Warrior. A perfect bracket means getting all rounds completely accurate.
Operation Enduring Warrior's mission is to honor, empower and motivate the nation's wounded service members through a physical, mental, and emotional rehabilitative cycle, modeled for overcoming adversity and hardship through innovation, teamwork and perseverance. For more information, visit http://www.enduringwarrior.org.
"OEW as a team and as a mission aligns perfectly with our efforts to reconnect mobile device users with their busy lives so they can truly have a life without limits. March Madness brackets are a fun way to compete and to be able to raise money for OEW in the process is priceless," said Carrie Adams, Director of Marketing for Powerocks USA. "We've been supporters of theirs in the past and we're happy to be able to be a part of their mission once again during the NCAA tournament."
Operation Enduring Warrior is thankful for the ongoing support from Powerocks USA. As we move into 2014 and our busiest event schedule yet, we thank Powerocks for their generous support. It allows us to reach even more of our nation's wounded service members as we work towards our mission to not only honor our wounded veterans, but to empower and motivate them to reach goals they may have thought were never possible before," said Allison Fonke, VP of Communication for Operation Enduring Warrior. "We welcome the help in this massive endeavor, and we're grateful that Powerocks has chosen to join us in our mission."
About Powerocks USA
Powerocks is the manufacturer of high-end power products, with over 10 years of experience developing lithium ion battery products. Powerocks, an innovative line of compact and powerful portable chargers for a variety of mobile devices, such as smartphones, MP3 players, tablets, GPS units, cameras and e-readers are the first portable chargers made with aerial lithium battery cell technology. Safe and reliable, with a defective rate of less than 1% across all products, Powerocks are the must-have portable charging solution for anyone who is on-the-go and needs a quick recharge.
Established in 2003, the Powerocks brand was registered in the USA in 2009. Powerocks has an in-house R&D center and industrial park located in ShenZhen, China with US products being distributed out. As one of the most famous portable charger brands, Powerocks focuses on developing high quality and well-designed smart rechargeable batteries. Powerocks products are international best-sellers, with all products certified UL, CE, SGS, and Apple authorized with MFI licenses. Exclusively distributed by OFFWIRE, a national distributor of cellular accessories based in OMAHA, Neb., they have been bringing the Powerocks product line to the US market since 2011. Please visit http://www.powerocksusa.com for more information.