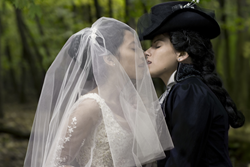 "Each photograph denotes an important moment in the story ... the viewer has to pay attention to figure out what happened (in the story)," Ara Lucia said.
Benton Harbor, Michigan (PRWEB) March 10, 2014
Ara Lucia's photo fables explore political and social issues. "Nebulous Certainties" was curated from two bodies of work, by Krasl Art Center's Curator of Exhibitions Tami Miller. The series "We Vow" (2009) was inspired by the fight against Prop 8 -- the battle to reinstate the right for gay persons to marry in California. Series "Tala & Louison: The Woods Open and Through" is a "Little Red Riding Hood" reinterpretation.
Photo fables represent Ara Lucia's invented worlds. These are brought to life by actors, technical crews, a photographer and a video-lighting team, as well as props and custom garments made by costume designers with painstaking detail. The fables are spun one photo at a time, allowing the viewer to fill in parts of the story between the frames.
Bisexual artist, Ara Lucia is a native of Southwest Michigan. She is also a Creativity Coach at SoulNavigation.org. She has a BA in Interdisciplinary Performance, and her work has been seen in Curve, AutoStraddle, SheWired, Cherrygrrl and others.