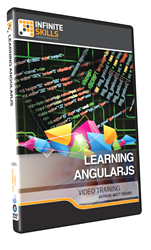 Learn AngularJS at your own pace
(PRWEB) March 11, 2014
Software training firm Infinite Skills Inc. this week introduced its "Learning AngularJS Tutorial," an introductory course designed for web developers with some experience in web development. The course teaches basic features and essential skills for using this innovative JavaScript framework.
AngularJS is an open-source JavaScript framework maintained by Google. It is designed to assist with running single-page web applications and includes compatibility with MVC in an effort to facilitate both development and testing.
Infinite Skills' Learning AngularJS Tutorial begins with the basics of this outstanding framework, allowing users to gradually strengthen their skill set and progress toward the course goal of creating effective web apps.
Learning AngularJS Tutorial - Streaming Video
Course author Matt Frisbie is a computer engineer with proficiencies in the major programming languages, including C, C#, CSS, PHP, and JavaScript. He is an expert at AngularJS, and currently runs Thinkster, a popular AngularJS learning site. Frisbie has a degree in computer engineering with emphasis on robotics and control systems. He has worked for several major companies as a software engineer and developer.
After a brief introduction outlining the course, how to approach AngularJS, and its relationship to MVC, Frisbie explains how to set up the application and work with some basic features, including views, controllers, and built-in directions.
The course continues with chapters on working with built-in and custom filters, AngularJS services, and creating your first directive.
As students learn the elements of an AngularJS app, the course covers basic routing and scope events, before looking at how to test your apps.
The course then closes with chapters on best practices for app production, server interaction, and working with third-party libraries.
"AngularJS is all about what's new in browser technology and where it's headed," Frisbie says.
"Throughout this curriculum, we are going to cover all the basics necessary to go from the ground to being able to build production-ready apps. I focus on the things I think are most important, taking you through the essential skills, best practices, and basically teaching the things I wish I would've known first in learning AngularJS."
Free demo videos and a full list of course contents can be found on the Learning AngularJS training page of the Infinite Skills website:
http://www.infiniteskills.com/training/learning-angularjs.html
Infinite Skills offers its Learning AngularJS Tutorial either as a DVD or a direct download from the company website at a retail price of $49.95. All titles and formats are compatible with Mac and Windows operating systems. Shipping is available around the globe. Additionally, Infinite Skills tutorials are supported by project files which correspond to examples in the videos, allowing users to work alongside experienced instructors right on their computer or iPad.
About Infinite Skills Inc.
A leader in the field of software training, Infinite Skills designs its courses on a task-oriented model, teaching complex skills by providing hands-on examples and guiding users as they carry out essential functions. Infinite Skills offers a wide range of software titles available as DVDs, digital downloads, and in iPad editions. Infinite Skills now offers a subscription service, providing access to all its training content for a monthly fee, keeping with company's aim of delivering professional training to customers anywhere they want to learn.