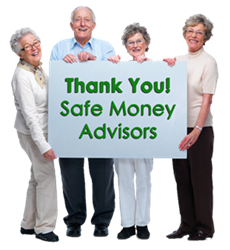 "You can't purchase a Safe Money approval - you earn it by your actions. Safe Money Approved advisors practice under the right principals of diversification. They operate their sales practice with full disclosure.
Cherry Hill NJ (PRWEB) March 11, 2014
Safemoney.com, originally launched in 2012 as a resource for investors planning their retirement, has been updated and upgraded to showcase the most qualified independent financial advisors in the country and offer additional articles and resources to help investors map out their retirement planning strategy.
"The new Safemoney.com has even more resources for pre- and post-retirees who want to make sure their nest egg is safe and secure," said Wealth Planner Brent Meyer, co-founder of Safe Money Resource and Safemoney.com. "There are a lot of unscrupulous advisors out there who have their own bottom line in mind rather than their clients' best interests. Through our 'Safe Money Approved' process, we have brought together the most ethical, trustworthy and qualified financial advisors across the nation, accessible through a single online portal. Safemoney.com users can find an independent advisor in their area, and educate themselves on the right questions to ask their advisor to get the expected results from their retirement investments."
Safemoney.com offers articles, guides and tips on topics that are important to people who are planning for their retirement. Articles on annuities, life insurance, long-term care insurance, IRAs, Social Security planning and other pertinent subjects can be found at Safemoney.com. Site visitors can get free, personalized Social Security planning advice and free, no-obligation insurance quotes.
"We understand that education is power," Meyer explained. "Understanding the various retirement investment products available can be confusing. Safemoney.com can help investors learn more about their options, and they can get a free consultation with an independent advisor in their area. There's never an annoying sales pitch, just advice from a qualified and ethical 'Safe Money Approved' independently licensed advisor."
In order to be "Safe Money Approved," an advisor must prove that he or she adheres to the highest ethical standards in the industry. "Safe Money Approved" advisors must be independent rather than captive – meaning they can offer a variety of retirement investment options, not financial products from just one company.
"You can't purchase a Safe Money approval - you earn it by your actions," Meyer explained. "Safe Money Approved advisors practice under the right principals of diversification. They operate their sales practice with full disclosure. They would rather lose a sale for the right reasons than gain a sale for the wrong reason. They look at the client's entire picture and work directly with Safe Money Resource to come up with the correct plan. This guarantees that the client's expectations are met."
Investors seeking financial advice should always consider the difference between independent and "captive" advisors. Independent advisors have the ability to look at a client's financial needs for retirement and devise a plan that may use a variety of investment strategies. They can shop around for annuity and insurance products from numerous different companies to find the perfect fit for each client. Trustworthiness and transparency are key characteristics of SafeMoney.com's independent network of licensed advisors.
On the flip side, captive advisors are committed to one particular insurance company.
"They are told what products to sell and they have quotas to meet," said Meyer. "This substantially limits the variety of products they can offer their clients. The big insurance companies are essentially marketing machines with the goal of selling the products that make them the most money. This means a captive advisor is only able to recommend certain annuity and insurance products, regardless of whether another company offers a product that would better suit their clients' needs."
For more information or to locate a "Safe Money Approved" financial advisor, visit http://www.safemoney.com.
ABOUT SAFE MONEY RESOURCE
Safe Money Resource is a much-needed resource for the Baby-Boomer generation of retirees and is comprised of independent agents who are defined by their integrity, knowledge and ethics. Safe Money Resource operates on the belief that education is empowerment.