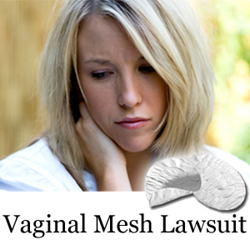 Wright & Schulte LLC offers free vaginal mesh lawsuit evaluations to victims of transvaginal mesh injuries. Visit www.yourlegalhelp.com, or call 1-800-399-0795
Columbus, OH (PRWEB) March 12, 2014
Wright & Schulte's lawyers have filed another Ethicon Vaginal Mesh lawsuit, against a division of Johnson & Johnson, on behalf of a woman from Nebraska (Case No. 2:13-cv-11766). Court documents for this mesh lawsuit allege that the plaintiff sustained severe injuries as a result of the design of Ethicon's bladder mesh and that some of these injuries have had a permanent negative impact on her quality of life. Additionally, the complaint contends that Ethicon was aware of the serious risks associated with its mesh and, yet, failed to warn the public about these risks. This bladder mesh lawsuit claim, which is part of MDL 2327, will be litigated in the U.S. District Court of the Southern District of West Virginia, Charleston Division.
Allegations in Ethicon Vaginal Mesh Lawsuit
According to court documents for this case (Case No. 2:13-cv-11766), in January 2004, the plaintiff had Ethicon's TVT implanted in her lower pelvic region to treat her pelvic organ prolapse (POP) and stress urinary incontinence (SUI). However, the plaintiff allegedly developed some severe injuries after implantation of the bladder mesh sling. Within months, these injuries reportedly worsened and became so crippling that the plaintiff had to have multiple corrective surgeries to remove the Ethicon TVT bladder mesh sling.
According to the FDA, in addition to pelvic and urinary pain, some of the severe complications that have allegedly been caused by Ethicon's TVT and other mesh slings include pain during sexual intercourse, mesh erosion through the vaginal lining, an increased risk of infection, vaginal scarring and puncturing of the blood vessels or organs surrounding the mesh.
[fda.gov/medicaldevices/safety/alertsandnotices/publichealthnotifications/ucm061976.htm, October 2008]
FDA Warns of Possible Bladder Mesh Sling Complications
After mesh slings had been introduced in the U.S., the growing number of reported mesh sling problems spurred the FDA to investigate the reported defects and complications that some patients had allegedly been developing due to their use of vaginal mesh slings like those produced by Ethicon. As part of this investigation, FDA officials thoroughly reviewed more than 100 mesh studies. Following this extensive review, in July 2011, the FDA issued a national safety announcement, warning that vaginal mesh complications are not rare.
Specifically, the FDA warned that about 1 in 10 women with transvaginal mesh have developed or would develop serious injuries that would necessitate corrective surgery and potentially even extraction of the vaginal mesh sling within one year of implantation. According to the FDA, in the worst cases, multiple revision surgeries were needed to treat the extensive, severe injuries caused by bladder mesh slings.
[fda.gov/downloads/MedicalDevices/Safety/AlertsandNotices/UCM262760.pdf, July 2011]
Visit our website or like us on facebook for all the current Bladder Mesh Lawsuit News.
About Wright & Schulte LLC
Wright & Schulte LLC, an experienced personal injury firm, is dedicated to the belief that America's legal system should work for the people. Every day, the attorneys of Wright & Schulte LLC stand up for the rights of people who have been injured or wronged and fight tirelessly to ensure that even the world's most powerful corporations take responsibility for their actions. If you're looking for a law firm that will guarantee the aggressive and personal representation you deserve, please do not hesitate to contact Wright & Schulte LLC today. Free case evaluations are available through yourlegalhelp.com or by calling 1-800-399-0795.
Contact:
Wright & Schulte LLC
1-800-399-0795
http://www.yourlegalhelp.com