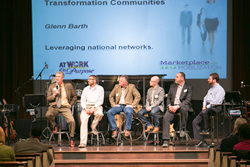 "Only three million people are what we would call 'faith expressive' at work, which is about two percent of the whole population," said Chuck Proudfit, AWOP founder and president.
(PRWEB) March 13, 2014
At Work on Purpose's (AWOP) Marketplace Mobilization 2014 conference played to a packed house March 1 as speakers coached workplace Christians on how to integrate their faith lives into the fabric of home, work and social relationships.
More than 500 people attended the event held at Horizon Community Church in Cincinnati. Speakers included Mike Breen, founder of 3DM (Three Dimensional Movements) and an international pioneer in discipleship; Patrice Tsague, founder of the Nehemiah Project and a global thought leader in Biblical entrepreneurship; and Glenn Barth, founder of Good Cities and one of the world's leading experts in city transformation through the marketplace.
AWOP founder and president Chuck Proudfit headed three panels of Christians who are actively working with initiatives citywide to help people feel more comfortable living out their faiths at work and witnessing to others when opportunities arise.
"There are 154 million people working or looking for work in the United States, and 63 million identify themselves as Christians," Proudfit told the assembly. "Only three million people what we would call 'faith expressive' at work, which is about two percent of the whole population."
Proudfit called on this remnant, or ekklesia (Greek word for 'assembly called out') of Christians to live biblically at work.
"After Jesus's death, the apostles were a remnant community, but they were a remnant that changed the world," said Proudfit.
"We all have to stop living as if one room in our house is for family, one is for business sand one is for our social life," said Breen of Pawleys Island, S.C. He called on Christians to integrate their faith through an oikos, or household, that that is all-inclusive.
3DM's 'Five Capitals' program, which works with marketplace leaders to help them live an integrated life including faith in the workplace, is being offered with an introductory learning community and follow-up coaching and content. AWOP is sponsoring the launch of 5 Capitals in Cincinnati, with the first learning community to be held March 27-29 at Horizon Community Church.
Participants who register at http://www.fivecapitals.net, and use the promotional code "AWOP", will receive a 25 percent discount. Couples using the promotional code "COUPLES50" will enable one spouse to attend free of charge.
Patrice Tsague of Portland, Ore., said he has been so impressed by the impact of the AWOP organization that his Nehemiah Project Biblical Entrepreneurship curriculum will launch in Cincinnati under AWOP leadership. The Biblical Entrepreneurship series is a three-part, comprehensive business discipleship curriculum for Christian business owners and individuals who are starting or operating businesses based upon Biblical principles. It is headed locally by Steve French of Cincinnati.
Barth of Minneapolis described how his 'Intersect' program at Good Cities unites local community leaders to serve the common good. In one instance, he was able to bring local pastors and business leaders together to hire a youth minister at a local church in order to provide positive engagement for teens.
"Churches can have a phenomenal impact when they band together around a vision," he said.
Proudfit announced the publication of the nation's first AWOP city-wide events calendar, enabling Christians across greater Cincinnati to link up with an activity, workshop or event every month during 2014.
"We have had to build our AWOP infrastructure to best connect people with marketplace ministry initiatives," said Proudfit. "AWOP is a vibrant community of support that can help people make a difference through a spiritual contribution."
With more than 6,500 members in Greater Cincinnati, plus emerging communities in several other cities, AWOP is the nation's largest citywide marketplace ministry. AWOP was founded in 2003, and is located in Blue Ash and Mason on the Grace Chapel church campus.
For more information on AWOP's 2014 events, go to http://www.atworkonpurpose.com.
# # #
Contact:
Laura Jackson
Phone: (513) 477-2652
At Work on Purpose is the nation's largest, city-wide marketplace ministry. Based in Cincinnati, the nonprofit organization helps working Christians mobilize the work world for Christ by offering inspiring and proactive ways to help them integrate faith into their work, family and social lives.