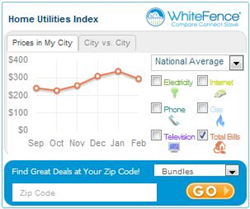 Houston, TX (PRWEB) March 11, 2014
ELECTRICITY
Extremes:
1. Highest bill: Seattle, WA at $133.65
2. Lowest bill: Los Angeles, CA at $42.24
3. Smallest Month over Month (MOM) decrease: Chicago, IL from $57.46 to $56.80
4. Largest MOM decrease: Philadelphia, PA from $119.81 to $67.05
The city with the highest bill for February was Seattle, WA at $133.65. Electricity rates in Seattle held steady, however usage was particularly high in January. In fact, Seattle had the highest usage of all the cities in the index for February.
Los Angeles, CA had the lowest overall bill at $42.24 in February. This is typical for Los Angeles, as winter temperatures have remained warm for that region.
As there were no increases in electricity bills for January, Chicago, IL had the smallest month over month decrease from $57.46 in January to $56.80 in February. This is expected since electricity is not nearly as important as natural gas at this time of year.
The largest decrease in monthly bill was Philadelphia, PA from $119.81 in January to $67.05 in February. This decrease was due to a lower electricity rate for the month of February.
NATURAL GAS
Extremes:
1. Highest bill: Philadelphia, PA at $193.33
2. Lowest bill: Dallas, TX at $23.50
3. Largest MOM increase: Dallas, TX from $18.39 to $23.50
4. Largest MOM decrease: Indianapolis, IN from $200.60 to $162.15
Philadelphia, PA remained at the top spot with the highest natural gas bill at $193.33 in February. Indianapolis, IN came in 2nd at $162.15. Multiple arctic fronts swept through this region through the end of February, increasing usage. This trend will slowly start to taper off towards the end of March.
Dallas, TX, once again had the lowest natural gas bill at $23.50 for the month of February. The usage and natural gas rates remained fairly steady for that region. As the winter season comes to an end, this region's natural gas bill should keep declining.
Dallas, TX also had the largest month over month increase, from $18.39 in January to $23.50 in February. This is not significant since this region's natural gas bill remains inexpensive.
The city that saw the largest month over month decrease was Indianapolis, IN, from $200.60 to $162.15. Yes, this was the largest MOM decrease amongst all the cities of the index, however this bill still remains on the expensive end of all the natural gas prices.
As the winter season slowly begins to end, we should see a less arctic blasts pass through the Midwest and northeastern region of the country, ultimately reducing natural gas rates.
ABOUT WHITEFENCE.COM
WhiteFence.com is a free service that helps homeowners and renters compare, connect and save money on phone, internet, television, electricity, natural gas, and other home services. By simply entering a street address onto the secure site, people looking to save money or start new service can find the most comprehensive list of plans available for their specific address from over 300 nationally recognized partners. As a trusted home service shopping source for 20 million people annually, WhiteFence.com makes it easy to establish service directly on the site in a few simple steps. WhiteFence.com is headquartered in Houston, Texas. For more information, please visit WhiteFence.com or view the index data at WhiteFenceIndex.com.