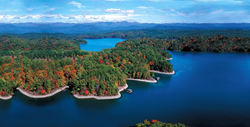 Artist in Residence Program
Greenville, South Carolina (PRWEB) March 11, 2014
It's a challenge to capture the beauty of the landscapes in Western South Carolina through art. However, Baby Boomers living in the Lake Keowee neighborhoods enjoy incredible beauty 24/7 and can see how landscape artists transform it into timeless pieces at a new art exhibit this spring.
From March 3 -April 30, the latest and greatest "Landscape" Art Exhibit will be showcased at The Reserve at Lake Keowee, an award winning Western South Carolina lake community centered around golf and boating. Talented artists like Laura Buxo, Pat Grills, Robert Decker and David Waldrop will be featuring their stunning masterpieces for the community to admire. All of these artists are guests, and possibly their creative abilities will land them a spot in the annual Artist in Residence Program at The Reserve at Lake Keowee, a lifelong experience in the neighborhood. The community are the judges and the exhibit and anticipated Landscape Artist Reception are the exciting opportunities to see what these artists can do.
Members of the community can mingle and learn more about the inspiration of these artists. Residents in and around the Lake Keowee neighborhoods will know more about Laura Buxo's plein air painting techniques and Pat Grill's education in art history and teaching. Robert Decker may share more about his passion of art and David Waldrop could talk about his photography abilities in detail. Visitors to The Reserve at Lake Keowee are in for an amazing night and a lifetime opportunity to learn more about art and culture in the neighborhood.
The community is deeply involved in art and culture and it has become a way of life at the Reserve at Lake Keowee. The Artist in Residence Program was introduced to the Western South Carolina lake community several years ago, and the members have embraced new hobbies, interests and creativity with open arms. In past years, photographers like John Smith and guitarists like John akers have graced their presence in the community. Pianist Martha Beaudrot spent 2011 with the Reserve at Lake Keowee, while carpenter, Matt Hanewald wowed people with his amazing knack for creating beautiful handmade furniture in 2013. These are only a few artists that have dedicated their time and become part of this gated community lifestyle, but each year comes new artists.
Art is an intricate part of the Reserve at Lake Keowee and the surrounding Lake Keowee neighborhoods, but there is more for Baby Boomers to do and enjoy when living here. The lakefront gated community is approximately 2,900 acres of luxury mountain homes and lakefront properties, amenities and natural landscapes in Western South Carolina. A state-of-the-art fitness center, Har-Tru tennis courts, championship golf course and clubhouse, resort-style lakefront pool and 5 ½ miles of natural walking trails complete this already perfect master-planned community. A Village Market and Founders Hall are convenient venues for shopping and community events. There are 200 boat slips and a private marina. The Reserve at Lake Keowee is a two time winner of Real Estate Scorecard's Bliss Award™ as Best Lake Community of the Year.
It's hard to describe the beauty of this community or express it on a painted canvas. The best way is to see it in person.
Buyers searching for the best places to retire in Western South Carolina, should contact The Reserve at Lake Keowee directly to schedule at tour 877.922.5253.
About Real Estate Scorecard:
Real Estate Scorecard writes unbiased real estate reviews providing in-depth information about popular gated communities in Florida, Georgia, North Carolina, South Carolina and Tennessee, all in an effort to help people discover where to retire in the Southeast.
Website: http://realestatescorecard.com