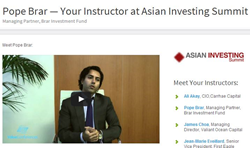 The intelligent investor waits for the fat pitch and tries to deliver a homerun.
San Francisco Bay Area (PRWEB) March 11, 2014
Brar Investment Capital announced today that it has been selected to present at Asian Investing Summit 2014, the online conference on Asian value equities hosted by ValueConferences and The Manual of Ideas. Brar Investment Capital's Managing Founder, Pope Brar, will present the firm's investment strategy along with its top investment idea in the Asian market.
"We are humbled to be selected to speak at a conference that will offer valuable investment ideas from some of the top portfolio managers in the world. We have tremendous respect for John and Oliver Mihaljevic who have grown up on the teachings of Ben Graham, Warren Buffett and Joel Greenblatt, and through ValueConferences and The Manual of Ideas have created a community that connects value investors worldwide."
Asian Investing Summit 2014 will be held live online on April 8-9. Past ValueConferences speakers have included Charles de Vaulx, Tom Gayner, Howard Marks, Bill Nasgovitz, Mohnish Pabrai, Tom Russo, Guy Spier and Don Yacktman.
"The recent slowdown in the emerging markets has presented bountiful opportunities for the opportunistic investor. We look forward to presenting on an emerging restaurant operator that has potential for global penetration. It's led by an intelligent management team, strong business model, and large niche. We have actively scuttlebutted the company and analyzed the business model through our proprietary investment checklist. A handful of these opportunities can potentially make the investor very happy," stated Pope Brar.
Brar is best known for his "go against the grain" views and believes that a basket of a few deeply discounted equities has the potential to deliver satisfying returns in the long term.
"The intelligent investor waits for the fat pitch and tries to deliver a homerun. Investors are looking to grow their capital on an absolute basis and want to invest in strategies that will produce over a number of years. One of the top ways to appreciate capital is by investing in a strategy that concentrates holdings in a few names and reduces risk by continuously stress testing its investments. Idea number 40 is unlikely to add more value than idea 10," said Brar.
About Brar Investment Capital, LLC:
Bhupinder "Pope" Brar is managing partner and founder of Brar Investment Capital, LLC. The firm is based in the San Francisco Bay Area and is an investment advisor to Brar Investment Fund, LP, which invests globally in value-oriented and special-situation equities. For more information, visit http://www.brarifunds.com or e-mail pope(at)brarifunds(dot)com.
This document does not constitute an offer to sell, or a solicitation of an offer to buy membership interests in Brar Investment Fund, LP. We will not make such offer or solicitation prior to the delivery of a definitive offering memorandum and other materials relating to the matters herein. Before making an investment decision with respect to the fund, we advise potential investors to carefully read the offering memorandum, the operating agreement, the related subscription documents, and to consult with their tax, legal and financial advisors. The fund is offered to accredited and qualified investors. Brar Investment Fund, LP is not responsible for the consequences of any decisions or actions taken as a result of information provided herein and no investment decision should be made solely on the information provided.