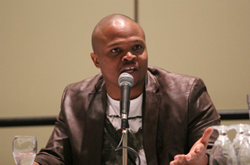 When I got the job, they said I would work two, maybe three episodes, and it turned into three seasons – how amazing.
(PRWEB) March 13, 2014
Recently, TVRage.com's Senior Writer Anthony Marcusa attended Toronto ComiCon 2014, where he was able to hear 'The Walking Dead's IronE Singleton talk about his hard life, determination and survival, on and off screen.
Here's an excerpt from the panel:
"We are survivors. If we have just a little bit of hope, it can always be replenished by any little thing."
Singleton knows about hope firsthand. When he was 18, he lost his mother to complications related to HIV. She was a crack addict and alcoholic, while IronE's father only made two appearances in his life. His brother, meanwhile, was in and out of jail, and eventually, after running the streets, IronE chose a path that led him down a safe, brighter, and happier future.
"I was determined to make my mother's life mean something. I asked, 'how can I make sure she didn't die in vain?' The best way to do that is to do something with my life, that's my mission."
A pair of roles, one in the popular film 'The Blindside' and the other as T-Dog on 'The Walking Dead,' helped Singleton move closer to those goals – for him, he explained, acting is the vehicle for his mission."