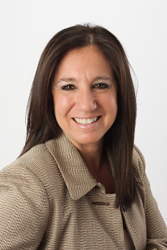 With the introduction of new technologies and social media, bank customers are becomming more savvy and are seeking cutting edge service from their banking partner. The banks that offer their customers value at every turn will be those that flourish.
Atlanta, GA (PRWEB) March 12, 2014
Bank Solutions Group, LLC (BSG) announced today that Stefanie Cutillo has joined the consulting firm as a partner based in Philadelphia.
"Stefanie brings to our firm immense financial services industry experience and subject matter expertise as a consumer, small business and commercial banking executive and consultant," says BSG's Senior Managing Partner Les Riedl. "She is a recognized expert and innovator in multi-channel sales and cross-sell improvement, and has developed award-winning curriculum and training courses for a wide range of financial services clients globally. We are very pleased to have Stefanie join our consulting team and look forward to leveraging her expertise to help clients achieve transformational results and success in their markets."
"I'm very excited to be part of a team that is so engaged in the dynamic climate of the banking industry," said Cutillo. "BSG is committed to assisting banks and credit unions of all sizes and in every market with improved Customer Experience, utilization of big data and success in the coming years while navigating the increased regulatory changes that continue to challenge our clients."
Stefanie has over 25 years of experience in Retail and Commercial Banking and has held Senior positions in Retail Management, Small Business Banking, SBA Lending, Training and Consulting. She has spent the last 10 years as a Consultant and subject matter expert, working with US and International banking clients. Her expertise includes managing projects, conducting seminars and classroom training sessions, providing process improvement and industry trend analysis in the areas of Regulatory Compliance, Sales, Customer Experience, Call Center, Mobile and Internet Banking, Productivity and Quality, Leadership, Strategic Planning, and Line of Business profitability and growth improvement.
She recently created a full accredited curriculum for a Midwest college degree program entitled, "Professional Banking and Operational Leadership", which has received the Chief Learning Officer Gold Standard award for Excellence in Corporate Learning in both 2012 and 2013. Stefanie graduated with honors from the University of Delaware with a BS in Economics and is a member of Omicron Delta Epsilon National Economics Honor Society.
About Bank Solutions Group, LLC
Bank Solutions Group, LLC is a management consulting firm that helps banks, credit unions and other financial services client-partners in meeting complex business challenges to achieve higher performance and gain competitive advantage. BSG is headquartered in Atlanta with representatives in 8 U.S. cities and has a global presence with teams based in eleven countries in North America, South America, Europe and Asia Pacific.