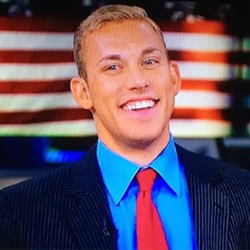 The 'Options 101 Webinar Series' is a rare opportunity for traders to learn new techniques to increase profitability.
Chicago, Ill. (PRWEB) March 11, 2014
Professional options trader and financial TV news contributor Andrew Keene will share expert strategies for lucrative Options trading during a 45-hour, nine-week, live options trading class starting March 15. The course presents a rare opportunity to learn profitable trading techniques from a skilled options trader who made millions trading options before starting his own business where he now educates more than 700 traders per day. Keene—a market-maker with more than a decade of experience trading on the floor of the Chicago Board Options Exchange (CBOE)—will live-host the options education webinar Saturday mornings starting at 11 a.m. Eastern Standard Time through May 10.
Open to anyone interested in trading options, the "Options 101 Webinar Series" will cover the same options education curriculum other educators charge thousands of dollars for. Class attendees will gain valuable trading insight by learning from and following a profitable professional options trader. Keene's reputation as one of the most renowned options traders in the world is built on a profitable trading record that has made him $5.5 million trading equity options. Once the largest AAPL (Apple) equity options trader in the world, Keene is a trusted contributor to major financial media networks including Bloomberg TV, BNN, CNBC, Fox Business, Sky Australia, and CBOETV.
"After all the success and wealth options trading has brought me, I felt the need to share my knowledge of the market and show how to navigate it as effectively as possible," Keene said. "The 'Options 101 Webinar Series" is a unique opportunity for traders to learn my techniques at no-cost."
Keene, author of "Keene On The Market: Trade to Win Using Unusual Options Activity, Volatility and Earnings, started trading 12 years ago at the CBOE. He began educating retail option traders by blogging on KeeneOnTheMarket.com, which later evolved into an e-business that includes a live trading room. On a typical day, Keene can be found monitoring nine computer screens for unusual options activity while running his live trading room and trade-alert service for subscribers. Keene trades up to 2,000 contracts per day without the use of algorithms or automations.
"Education should be a lifelong process where we never stop yearning to gain new knowledge," Keene said. "My options education class will help anyone interested in trading learn a new skill that will help steer their financial destiny."
The "Options 101 Webinar Series" covers the following topics: History of Options, Calls and Puts, Calculating Break-Even and P&L, Calls Instead of Stock, Covered Calls, Protected and Cash-Secured Puts, Managing Positions Upon Expiration, The Greeks, and Beginner Options Review. To sign up, go to: https://keeneonthemarket.leadpages.net/courses/.
Two additional courses—an intermediate and an advanced options education course—will follow in the summer and fall, respectively. Beginning May 17 and running through July 26, the Intermediate Summer Series will cover: Debit Spreads, Credit Spreads, Selling Options, Butterflies and Condors, Iron Condors, Straddles and Strangles, Trading for a Living, Volatility, Volatility Skew, Zero Cost Collars, and Intermediate Options Review.
The Advanced Fall Series, Aug. 2-Oct.11, will cover higher-level topics including: Calendar Spreads, Trading Earnings, Creating an Exit Plan, Managing a Large Book, Reading Order Flow, Unusual Options Activity, Synthetic Options Strategies, Trader Tips, Trading Weeklys, Trading VIX Products, and Advanced Options Review.
For more information, go to: http://www.KeeneOnTheMarket.com.
About Andrew Keene:
Andrew Keene is a professional options trader who founded KeeneOnTheMarket.com in 2012 after trading equity options independently on the Chicago Board Options Exchange for 11 years. During his time at the CBOE, Keene was a market-maker in more than 125 stocks, including Apple, General Electric, Goldman Sachs, and Yahoo. From 2006-2009, Keene was the biggest independent on-the-floor Apple trader in the world. Today Keene is actively trading futures, equity options, currency pairs, and commodities. Keene is one of the CBOE's most-recognized faces in the media and financial community, and makes regular appearances on Bloomberg TV, BNN, CNBC, Fox Business, Sky Australia, and CBOETV. He is also a regular contributor for Bloomberg Radio, DailyForex.com, Trader Planet, Minyanville.com, and Jim Cramer's TheStreet.com. Keene's first book, Keene On The Market: Trade to Win Using Unusual Options Activity, Volatility and Earnings, published by John Wiley & Sons, is available now. He earned a B.S. in Finance with a concentration in Accountancy from the University of Illinois. Keene can be contacted at Andrew(at)KeeneOnTheMarket(dot)com.
About KeeneOnTheMarket.com:
KeeneOnTheMarket.com was founded in 2012 by options trader Andrew Keene with the goal of providing Options traders with proven techniques for profitable trading. With more than four decades of collective options exchange floor experience, KeeneOnTheMarket.com's options trading plans have withstood the test of time and are compatible with any market environment. Keene watches more than 2,000 trades each day from every options exchange, which allows subscribers to gain access to in-depth order flow analysis in real-time. KeeneOnTheMarket.com offers unparalleled insight into the biggest institutional bets in the marketplace. A 24-hour response is guaranteed to all trader queries. For more information, go to http://www.KeeneOnTheMarket.com.