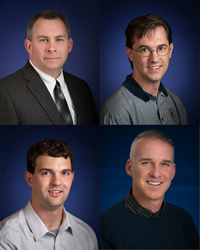 The return to Annese by these great people is a testament to our company's culture and benefits, and the open mindedness of its leadership and management.
Clifton Park, NY (PRWEB) March 11, 2014
Annese & Associates, Inc., an integrated communications systems provider, is pleased to announce that four employees who had left the company have been rehired within the last 18 months. Mike Decker, Jason Boyers, Mike Hurley, and Joe Simpson had each resigned from Annese for individual reasons but found their way back to the company after a short time away.
"The return to Annese by these great people is a testament to our company's culture and benefits, and the open mindedness of its leadership and management. Our door is always open to those who have talent, a strong work ethic and a propensity and interest in lifelong learning! We also understand that it is human nature to assess for one's self whether or not the grass is any greener on the other side," said Ray Apy, President & CEO.
According to HR business blog, TLNT, there are several key reasons why companies benefit from rehiring past employees:

They don't require training like new employees would.
There are no recruiting costs for the company.
Re-hired employees are familiar with the company procedures and culture.
Loyalty is likely to have increased — former employees have seen what's out there in the world and have chosen to return.
They can provide valuable intelligence and fresh perspectives from their prior companies.
Annese, which was recognized on the New York State Best Companies to Work for list three times (most recently ranking #3 in 2013) touts a family oriented work environment, an emphasis on employee recognition, career path training and development, and a comprehensive medical and benefits package. In its 40+ year history, the turn over rate has been minimal
In Their Own Words: Why did you come back to Annese?
"After a two year leave, I was thrilled at the opportunity to rejoin the Annese family. I have been in the IT industry for 25 years and have worked at several companies, from very small to very large. Annese is certainly one of the premier IT service providers in the industry that I have experienced; they just get it. I have never seen a company built so strongly on the foundation of family values as Annese. The company is focused on supporting customers and doing the right thing, and everything else will fall into place. In reality it's not quite that simple as the company has a great management team that continues to pave the strategic path for the company. It's a great place to be an employee or a valued customer," said Mike Decker, Director of Managed Services. Mike is based the company's Clifton Park office.
"Annese has a plan for how it will continue to succeed as a company. And, it works hard on implementing that plan. With that, it isn't a "let's be everything to everyone" type of reseller. It's focused. Even as it expands its capabilities, it does so in a methodical and thoughtful manner so as not to overextend the company. Though Annese's vision for how it moves forward as a company is special, it isn't just about profit (though that's important.) It includes how to continue to provide for the needs of its employees. Annese feels like a family. We help one another, work through things together, and try to help one another succeed," said Jason Boyers, Senior Systems Engineer on the Infrastructure team. Jason is based in the company's Rochester office.
"The personal and professional relationships I built during my previous time at Annese did not end when I left the company. I heard a lot about the great changes happening at Annese, and how much the company has been growing. The outlook of the company is extremely strong, which can be seen in the attitudes of its employees as well as read about in many industry publications. When Annese approached me with an offer to join the team again, I was impressed with the short and long term goalsshared with me. The company has made multiple process improvements since I had left, which led to both a better experience for the customer, and a more balanced lifestyle for the engineers. It didn't take very long for me to realize that I belonged back at Annese, and I happily accepted the position," said Mike Hurley, Senior Systems Engineer on the Infrastructure team. Mike is based the company's Brewster office.
"Annese hired me right out of college as a field engineer in the services department. I enjoyed everything about the company—the people, the family atmosphere, and the compensation. Because of my need to keep advancing in my career, I left Annese for other opportunities that were opening up. I spent the next three years at three different companies. While I gained something essential from each place, none of them could compare with what I had left behind at Annese. I'm thankful for what I gained in those three years away, and I'm thankful I can bring those skills back 'home' and contribute here where I got my start, and where I fully expect to end," said Joe Simpson, Systems Engineer on the Collaboration team. Joe is based in the company's Clifton Park office.
About Annese & Associates, Inc.
Expertise. Relationships. Innovation. Throughout the past four decades, these principles have established the foundation upon which Annese & Associates has emerged as the trusted adviser to our customers, partners, and communities. With a full-circle approach to integrating communications systems, Annese wraps professional and managed services around Infrastructure, Collaboration and Data Center Virtualization solutions. Guided by our services methodology, we design an end-to-end IT experience for our clients, implementing the tools of today and administering a plan for tomorrow. Our business is the art, science, and passion of connecting devices to networks, people to people, and ideas to action.
– ### –