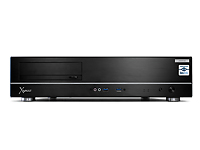 'Seneca makes it easy for security integrators to deploy IP technology while giving their analog customers a migration path to bridge the gap into IP technology,' said Ron VanTassel, Market Development Manager for Seneca.
Syracuse, NY (PRWEB) March 11, 2014
Seneca®, a leading custom computer and appliance manufacturer providing optimized, certified, and guaranteed solutions for the digital security and surveillance (DSS) market, today announces an integrated solution combining the Seneca xVault xNVR100 (Network Video Recorder) and OnSSI 's flagship Ocularis PS VMS software. This solution highlights the ongoing effort between the two companies to simplify and accelerate the adoption of IP video surveillance.
The xVault xNVR100 OnSSI solution provides an out of the box, ready to deploy, video surveillance platform designed for single site surveillance or distributed across multiple remote sites. This bundled solution supports IP deployments or a combination of analog and IP (hybrid) projects where customers are slowly transitioning their analog equipment to IP.
"Seneca makes it easy for security integrators to deploy IP technology while giving their analog customers a migration path to bridge the gap into IP technology," said Ron VanTassel, Market Development Manager for Seneca. "The xVault xNVR100, performance optimized and pre-loaded with OnSSI Ocularis PS software, provides a turnkey solution ideal for up to 26 camera deployments."
"By Embedding Ocularis PS in Seneca's xVault product offering, we can provide customers with best-in- breed software and hardware for demanding applications and environments. Also included in the offering is the Ocularis mobile client, capable of streaming HD/MP cameras at full frame rates over low bandwidth connections to your mobile device, said Ken LaMarca, VP of Sales and Marketing at OnSSI. "The Seneca xVault NVR, Powered by OnSSI, is scalable, flexible, cost effective and simple to configure and use, making it the right choice for standalone and multi-site applications."
Bundle Certified and Pre-Loaded with Ocularis PS Software
The xVault xNVR100 OnSSI bundled solution is available in IP and Hybrid configurations. This ready to deploy surveillance system provides video recording, client viewing, and mobile viewing in a single appliance, reducing the overall complexity and total cost of ownership. Notable features include:

16 OnSSI Ocularis PS licenses
Scalable solutions for IP and Hybrid projects
Ability to manage video received from cameras connected to multiple recording servers with central management servers
Scalable hardware and software features to reduce costs and tailor to your specific project
Flexible archiving with multiple archiving instances per day to local storage devices
Optimized hardware solution designed for OnSSI Ocularis PS software platform
The xVault xNVR100 with OnSSI's Ocularis PS, is available exclusively through distribution and can be purchased through Accu-Tech, Communication Supply Corp (CSC), PSA Security Network, and Tri-Ed. For more information about this bundled solution or where to purchase please contact a Seneca Account Manager at (877) 814-0348. For more information visit http://www.senecadata.com or http://www.onssi.com.
Come see the xVault xNVR100 with OnSSI Ocularis PS software live at ISC West April 2-4th in Seneca Booth #6059 and OnSSI Booth #11075 to learn more about this solution.
About Seneca:
For over 30 years, Seneca has met the needs of customers in diverse industries with original and partnered technology solutions. As a leading U.S.-based Custom Computer Manufacturer, Seneca serves the evolving needs of our Business, Gov/Ed, Digital Security and Digital Signage, Digital Security and Surveillance, Digital Health and Digital Broadcast customers nationwide. By establishing the highest standards for our products, we forge long-term, mutually beneficial partnerships that deliver results. Seneca is best known for our rigorously tested Nexlink brand of custom-built desktops, servers, notebooks and storage devices. Our success is built on service and consistent performance at every stage of the extended technology lifecycle.
About OnSSI
OnSSI offers breakthrough VMS technology that's field proven at thousands of installations globally. The company's flagship Ocularis IP security and surveillance platform delivers open architecture, scalability and process automation at reduced operating costs. And with the addition of Ocularis Web and Mobile, utilizing OnSSI's High Definition Interactive Streaming (HDIS), OnSSI delivers the fastest and highest resolution mobile and web access video delivery solution available. For more information on OnSSI, call 845-732-7900, e-mail info(at)onssi(dot)com or visit http://www.onssi.com.