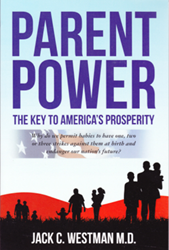 Dysfunctional parents cause social problems…competent parents prevent them
Madison, WI (PRWEB) March 12, 2014
The popular view is that failing schools and poverty are the major reasons why one-third of the children in the United States are not thriving. In his book Parent Power: The Key to America's Prosperity, Dr. Jack Westman calls attention to the greater underlying cause: struggling families that cross social class boundaries. Most disadvantaged parents raise their children successfully, and many affluent parents fail to do so.
Accomplished literary biographer Blake Bailey begins his book early in his parents' marriage soon after the birth of his older brother, Scott. Tormented by Scott's incessant wailing, his mother and father find themselves on the roof of a building, contemplating an unusual dilemma: whether to throw him or themselves off. Later during Scott's infancy, while their father suffers from a bleeding ulcer, their desperate mother tries to stop the child's screams—if not his breathing altogether—by muffling him with a pillow.
Bailey tells a dramatic tale of an affluent dysfunctional family. He describes his mother's postpartum depression and conversations he had with her while both were under the influence of alcohol. As his parents' marriage was collapsing and Blake was having his own problems with drinking and car crashes, his ill-fated brother Scott dropped out of college a second time, suffered a severe automobile accident, and destroyed all the glass in his apartment.
Popular sentiment clings to the illusion that the United States treasures children and supports parents…especially by adulating parents who spend money so their children can have every material advantage. In reality, a strong undercurrent denigrates parenthood. This undercurrent is evident in social policies, media advertising, the internet, and societal norms that make the already challenging job of parenthood more difficult.
The public can no longer afford to ignore the glaring reality: dysfunctional parents cause social problems…competent parents prevent them. What children really need in order to flourish is not the same as being happy. They need to become self-disciplined, productive, moral members of society. Finally, public policies and economic priorities must support competent adults so they can fulfill the vital role of parenthood.
The belief that little can be done to strengthen families must be confronted. This belief hands responsibility for childrearing over to institutions. Paid childcare, schools, and professionals are expected to fill in when parents falter and fail. Parents today are not held as accountable for their actions with their children as they are for their interactions with people outside their families. At the same time, children have become commodities in the marketplace.
Instead, by investing in strengthening families and in its young citizens─future scientists, doctors, statespersons, industrialists, farmers, inventors, educators, clergy, artists, service members, and parents─the United States invests in its ability to successfully compete in and influence the global environment. The first priority, then, should be developing a sustainable infrastructure of family resources so that parents can effectively nurture their children as described in Parent Power: The Key to America's Prosperity.