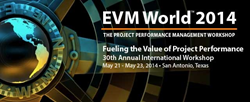 Alexandria, VA (PRWEB) March 12, 2014
The College of Performance Management (CPM) has announced the Workshop line-up for EVM World 2014. Leaders from the Department of Defense, NASA and Industry will present hands-on workshops and informational updates on the latest developments in earned value management and integrated project performance measures. Workshops will take place from Wednesday, May 21st to Friday, May 23rd in San Antonio, Texas. More information can be found here.
"This is really an incredible line-up," said Mr. Buddy Everage, EVM World Workshop Co-Chair and VP of Finance for the College of Performance Management. "To have this caliber of government and industry thought leaders at one event is an honor and tremendous resource for EVM World attendees. It fits perfectly with our goal of providing the leading edge of information, professional development and networking opportunities for EVM World participants."
Specific workshop tracks include:

Mr. Gordon Kranz, Office of the Secretary of Defense on the DOD EVMS Interpretative Guide
Mr. Gerald Kerby, NASA, on the Civil Agency Working Group
Ms. Tracie Thompson, ATK, and Mr. Peter Wynne, Lockheed Martin, on the status of the
IPMD and Hot Topics of the Clearinghouse Working Group

Mr. Andrew Dorsey, Raytheon, and Mr. Tom Polen, Deltek, on the vision for EVM in 2020
Mr. Glen Alleman, Niwot Ridge, LLC, and Mr. Tom Coonce, IDA on work done for the DOD on technical performance measures
Mr. Mark Phillips, CommunicationMeasurement.org, on the role of communication as a performance management tool.
The 30th Annual EVM World will take May 21st through May 23rd, 2014 in San Antonio Texas. The theme of the event is "Fueling the Value of Project Performance." EVM World is the premier annual event for project performance management techniques and earned value management. It offers outstanding training, excellent networking, in-depth sessions with leading experts, workshops, case studies and the opportunity to learn about the latest techniques and tools to improve project performance. Visit the EVM World website for more information.
The College of Performance Management (CPM) is an international, non-profit professional organization dedicated to the disciplines of earned value, performance measurement and project management. Headquartered in Alexandria, Virginia, USA, CPM is the world's leading source of education and information related to earned value management and other performance management techniques. For decades, the CPM Community has been responsible for leading, developing, promulgating and training people on the program management techniques used by the private sector, the U.S. Federal Government and around the world for successful program performance management. CPM is a growing body of professionals dedicated to managing projects that deliver the right outcomes on time and on budget. For more information, visit http://www.mycpm.org.
Press contact: Mark Phillips, PMP, CPM VP Communications, Mark.Phillips(at)mycpm(dot)org.
Source: College of Performance Management