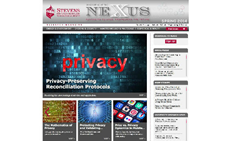 Nexus serves as the window into our research for the campus community, our external partners, journalists, and our alumni.
Hoboken, NJ (PRWEB) March 11, 2014
Stevens Institute of Technology announces the relaunch of Nexus, the university's online research magazine for the Charles V. Schaefer, Jr. School of Engineering & Science, http://research.stevens.edu/.
Nexus is a place for people interested in learning more about engineering research and news in four major research areas including: energy & environment; systems & security; nano-technology & multiscale; and biomedical & health. The Spring issue is the first to showcase a new site design that's more visual and user-friendly and includes more technical research articles than before.
"Readers want and need to see a more complete picture of how much good work is happening in the School of Engineering and Science," says Michael Bruno, Feiler Chair Professor and Dean, School of Engineering and Science. "Nexus serves as the window into our research for the campus community, our external partners, journalists, and our alumni."
Each issue focuses on a topic or domain area that is of current national/global interest, or that highlights an emerging area of strength within the School. The Spring issue is centered on the issue of information assurance or privacy and the work of Stevens' researchers in this area.
Readers will fine the new Nexus chock full of useful and interesting information about our research programs and people.
This online newsletter offers readers:

Featured research articles
Researcher biographies
Video
Recent photos
Archives of past stories
Search options
Don't worry, if you've already signed up for Nexus, you'll keep receiving it each quarter. If you haven't signed up for it yet, you can do so here: http://research.stevens.edu/subscribe-nexus.
A Sneak Peak into Nexus' Spring 2014 Issue
As the digital age has transformed our lives for the better, connecting us in ways unimaginable only 10 years ago, so, too, has it ushered in an era of widespread concern for the safety and security of these connections, and the privacy on which so much of our personal and professional lives depend.
Stevens researchers are leading several different initiatives aimed at providing information assurance for both transmitted and stored data; ensuring the security of wireless networks, machines, and software; and enhancing the privacy protections of essential systems and processes, including our healthcare networks. In this issue of Nexus, you will learn about many of these initiatives.
About Stevens Institute of Technology
Stevens Institute of Technology, The Innovation University®, is a premier, private research university situated in Hoboken, N.J. overlooking the Manhattan skyline. Founded in 1870, technological innovation has been the hallmark and legacy of Stevens' education and research programs for more than 140 years. Within the university's three schools and one college, more than 6,100 undergraduate and graduate students collaborate with more than 350 faculty members in an interdisciplinary, student-centric, entrepreneurial environment to advance the frontiers of science and leverage technology to confront global challenges. Stevens is home to three national research centers of excellence, as well as joint research programs focused on critical industries such as healthcare, energy, finance, defense, STEM education and coastal sustainability. The university is consistently ranked among the nation's elite for return on investment for students, career services programs and mid-career salaries of alumni. Stevens is in the midst of a 10-year strategic plan, The Future. Ours to Create., designed to further extend the Stevens legacy to create a forward-looking and far-reaching institution with global impact.