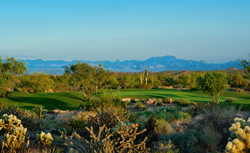 "I made a commitment to make Scottsdale National one of the very best, most exclusive golf clubs in the world," said Bob Parsons. "The acquisition of the adjoining property is a major step toward delivering on that promise."
SCOTTSDALE, AZ (PRWEB) March 11, 2014
A deal was finalized today for the purchase of Sierra Reserve by Scottsdale National Golf Club, L.L.C., an entity owned by Valley entrepreneur and philanthropist Bob Parsons. The 223 acres of undeveloped land adjacent to Scottsdale National Golf Club were purchased from Reserve Development Company for an undisclosed amount.
Lyle Anderson said of the transaction, "the terms and conditions for the sale of Sierra Reserve were unanimously approved by our partners."
Sierra Reserve, located at 122nd Street and Dynamite Road in Scottsdale, was originally purchased from Crown Golf Properties in 2007. Lyle Anderson, who is known for developing luxury communities, has spent the last two years obtaining the entitlements, zoning and approvals for the planned residential community.
"While we are sad that Sierra Reserve will not be developed as planned, we are extremely grateful for the widespread enthusiasm people had for our vision, and for the talented and dedicated team who were committed to making Sierra Reserve a truly one of a kind place to live," Lyle Anderson continued. "We are excited to see Bob's vision for the project take shape over the coming months."
Scottsdale National Golf Club, formerly Golf Club Scottsdale, was acquired by Bob Parsons in September of 2013. Parsons has already made significant improvements to the Club and has indicated additional capital improvements are planned.
"I made a commitment to make Scottsdale National one of the very best, most exclusive golf clubs in the world," said Bob Parsons. "The acquisition of the adjoining property is a major step toward delivering on that promise."
Details regarding this transaction or Parsons' plans for either the property or Scottsdale National Golf Club are not being disclosed.
About Sierra Reserve
Adjacent to the McDowell Sonoran Preserve, Sierra Reserve was planned to be a luxury residential community comprising of approximately 250 homes and a luxury boutique eco resort.
About Scottsdale National Golf Club
Scottsdale National Golf Club is a YAM Worldwide company. Protected on three sides by thousands of acres of wilderness designated for preservation, the Scottsdale National Golf Club is an exclusive desert oasis with uncontested 360° views and unparalleled golf. The undulating par-72 course designed by Jay Morrish and Dick Baily on 290 acres lies in a pristine pocket of the McDowell Mountains just east of Pinnacle Peak in Scottsdale, Arizona.
YAM Worldwide, Inc.
Based in Scottsdale, Arizona, YAM Worldwide has been privately held since its formation. The company is home to the entrepreneurship operations of Bob Parsons, best-known as the founder and executive chairman of GoDaddy, in the fields of power sports, golf, real estate, marketing, innovation and philanthropy.
Core businesses include LZ Delta, L.L.C. which owns Harley-Davidson of Scottsdale, Go AZ Motorcycles and Spooky Fast Customs, MS LZ Delta, L.L.C which owns Southern Thunder Harley-Davidson and alternate retail outlets Graceland Harley-Davidson and Blues City Harley-Davidson, Scottsdale National Golf Club, MP Agency, L.L.C., YAM Capital, The Bob & Renee Parsons Foundation and eight commercial real estate properties in the greater Phoenix area.