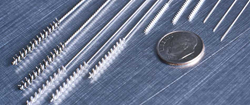 By automating deburring and surface finishing operations, manufacturing companies can improve part quality and production efficiency.
Los Angeles, CA (PRWEB) March 11, 2014
Brush Research Manufacturing (BRM), global leader in surface finishing solutions, is announcing deburring tools for small parts manufacturers. BRM industrial brushes are used in applications ranging from medical device fabrication to the production of agricultural equipment. By automating deburring and surface finishing operations, manufacturing companies can improve part quality and efficiency.
Metal and Abrasive Nylon Filaments
As a full-line manufacturer of brushing tools, BRM supplies miniature deburring brushes in various filament types. Choices include carbon steel, stainless steel, and brass; brush tools with nylon and abrasive-filled nylon filaments; and Flex-Hone® tools for bores as small as 4mm or 0.156 in. With their distinctive abrasive globules, BRM's flexible hones are also called ball hones and dingleberry hones.
Miniature deburing brushes with metal filaments include stainless steel tools with diameters as small as 0.024 in. Typically, these deburring tools are used to remove chips from holes, and to clear protruding and break-through burrs. Although stainless steel doesn't readily corrode or rust, other types of metal can oxidize. Metal filaments can also break and cause problems with machine tools and machinery.
Small-diameter abrasive nylon brushes offer an alternative to metal brushes. Available in silicon carbide (SC) and aluminum oxide (SC) abrasive, these mini brushes are also specified by grit size. Small diamond brushes are available, but are used mainly with harder materials. Applications for abrasive nylon brushes include cross-hole deburring, micro burr removal, surface preparation, and surface finishing.
Small-Diameter Flex-Hone® Tools
Abrasive-filled nylon brushes feature abrasive grains interspersed through nylon filaments. By contrast, Flex-Hone® tools have abrasive globules that are permanently laminated to the ends of nylon filaments. By putting more abrasive grains in contact with the work piece surface, flexible honing tools deliver superior surface finishing and deburring at the same time.
Flex-Hone® tools are self-centering, self-aligning, and self-compensating for wear. As BRM's Flex-Hone® In-Machine Setup video explains, flexible honing removes burrs from cross-drilled holes and can achieve surface finishes in single RA levels. By reversing the direction of the machine spindle, manufacturers can perform automated deburring operations in both directions.
For small parts manufacturers, choosing the right miniature deburring brush is critical. The Flex-Hone® Resource Guide is an excellent source of information about how to select and use flexible honing tools. Parts manufacturers can also contact BRM's engineering department, and send in their parts for analysis at the company's surface finishing laboratory.
About Brush Research Manufacturing
Brush Research Manufacturing (BRM), makers of flexible honing tools and deburring brushes, is located in Los Angeles, California. For over 55 years, BRM has been solving difficult surface finishing problems with brushing technology. BRM's Flex-Hone® tool is the industry standard against which all other surface finishing solutions are compared.
Media Contact:
Heather Jones
Director of Marketing
Brush Research Manufacturing Co. Inc.
4642 Floral Drive
Los Angeles, CA 90022
HJones(at)brushresearch(dot)com
For Immediate Release:
http://www.brushresearch.com/
Ph: (323) 261-2193