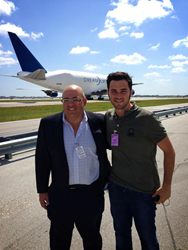 Miami, Florida (PRWEB) March 12, 2014
After 20 years in publication, Airways Magazine (the flagship title of Airways International, Inc.), has announced several changes that will lead its aviation coverage into an exciting new decade. Veteran aviation reporter Enrique Perrella has been named Publisher and Editor-in-Chief, and the magazine has formed a strategic alliance with Airchive.com, which will take control of Airways' digital, website, social media and mobile presence under one powerful combined Airways brand. These changes will also take Airways Magazine into America's commercial aviation epicenter, with new headquarters in Miami, where Airchive.com is also based.
Recognized as the leading newsstand publication in its field, Airways is currently distributed through newsstands in North America and 35 nations worldwide, reaching subscribers in more than 60 countries. Today's announcement was made by the magazine's founder, John Wegg, who plans to continue his responsibility for Airways' historical articles, special editions and projects, while working closely with Enrique and Airchive.com to ensure a seamless transition.
"I have been the editor-in-chief of Airways since its launch in 1994. In a vibrant age of multimedia publishing, now is the time to hand over the reigns to a new generation," he explained. "Enrique has the necessary passion, business acumen and aviation experience to take the enterprise to ever-higher flight levels, and Airchive.com is the natural choice to operate, transform and enrich Airways' entire online presence, while continuing to provide an unmatched historical edge to the magazine."
"It's a dream come true for me to take the wheel of this prestigious publication," said Perrella. "I remember I was just eight years old when my father came home with my very first edition of Airways. Today, two decades later, I'm ready to take it to the next level and reach a much broader audience with unseen top-notch photography and the highest quality text content out there."
Perrella takes the wheel at Airways effective with the June 2014 issue in conjunction with the formidable Airchive.com site, which has quickly become one of the industry's leading aviation news portals. Already reaching more than 200K unique monthly visitors, Airchive.com will merge its existing readership and social media presence with Airways in launching a new Airways portal with a built-in social media audience of more than 30K Twitter followers and 35K Facebook likes combined.
The new site and existing magazine will share content, contributors and promotion efforts, going beyond the Aviation Enthusiast audience, as Airchive.com has already done, to reach aviation industry stakeholders and employees, as well as Frequent Travelers. Airchive.com founder/editor-in-chief Chris Sloan will join the magazine as Associate Editor, and Perrella will join the new site as Associate Editor, each playing a crucial role in shaping future coverage. Airchive.com's co-editor-in-chief Jeremy Dwyer-Lindgren and its team of correspondents will also contribute to Airways Magazine, which—according to Perrella—will gradually introduce new sections aiming to showcase the very best of commercial aviation. The Airchive.com brand name will live on as a historical section in the magazine and online.
Ultimately, the combined Airways/Airchive media presence will showcase the very best of the world's commercial aviation industry, reach a much broader audience and take advantage of today's technology and the extensive reach Airchive.com has managed to seize over the last years.
"When I launched Airchive.com more than 10 years ago, I was motivated by a lifelong hobby that ultimately took on a life of its own, growing into one of the industry's leading aviation news sites," said Sloan. "Today's announcement is truly exciting to me, as it not only represents the next major step for us, but also builds on the editorial/cross-promotion alliance we've had with Airways for the past few years, in a much deeper operating relationship. Our team is thrilled to work with Enrique."
Enrique Perrella is an Embry-Riddle Aeronautical University alumnus who obtained his Bachelor degree in Aviation Business Administration in 2010 from the Daytona Beach Campus. In 2013, he received his Masters Degree in Aviation Business Administration from LUISS Business School in Rome, Italy, and also holds all Private, Instrument and Commercial Pilot ratings with more than 500 flight hours.
Before joining Airways, Perrella spent seven years living between Europe, South America and the US. His experience in the publication industry began in 2008 as an Assistant Editor for Airliners Magazine, where he covered events such as the delivery flight of Turkish Airlines' first 777-300ER and ANA's Boeing 787 Inaugural Flight from San Jose to Tokyo, among others. He has also covered all editions of Le Bourget, Farnborough and ILA since 2009, interviewing airline executives and key people from the industry. Perrella has also held Senior Correspondent positions at numerous international publications, such as Air Transport News and Airchive.com.
Founded in 2003, Airchive.com has transformed from its origins of a historical photo database into a continuously updated, forward leaning source of news, features, and information for the vibrant and every changing aviation industry. Airchive.com's content—featured regularly by Forbes, CNET, Business Insider and USA Today, among others—includes top-quality editorial coverage across a breadth of subjects: Breaking News, Aircraft & Technology, Airports, Aviation Safety, Business Financials and Analysis, Commemorative Events such as First Flights and Inaugurals, Historical Features, Passenger Experience in-the-air and on-the-ground, Trip Reports, Route News, and Special Features, such as #TGIF and Weekend Rewind.
Airchive.com founder, Chris Sloan, is a lifelong airline enthusiast who has woven his passion into every facet of his career. As the site's editor-in-chief, he has produced such notable stories as on-the-spot coverage of the merger of American Airlines, breaking news coverage of the Malaysia Airlines Flight 370 disappearance, Asiana 777 crash and Dreamliner groundings; in-depth industry analysis of the American Airlines-US Airways merger; a behind-the-scenes look at flying in and out of Cuba; and extensive inaugural flight features on the Airbus A380 and
A350 XWB, Boeing 787, 747-8 and 777-300ER, among others.
Sloan is also president and founder of a major television production and promotion company, 2C Media, which produces TV shows and promos for many national cable and broadcast networks. Occasionally, 2C and Sloan produce programming that appeals to his passion of flying, such as Travel Channel's "Airport 24/7: Miami" and overseeing the TLC documentary on the building of the Airbus A-380 featuring John Travolta. Previously, Sloan has held senior level executive positions with NBC, TLC, and USA Networks.
Reach out to Enrique Perrella at enrique(at)airwaysmag(dot)com and Chris Sloan at chris.sloan(at)2cmedia(dot)com.
Contact Airways International, Inc. at:
PO Box 261087
Miami, Florida. 33126
United States of America
Telephone: +1 (305) 744-3767
Email: airways(at)airwaysmag(dot)com
Website:http://www.airwaysmag.com / http://www.airchive.com
Business Hours: Monday – Friday, 09.00 – 17.00 (EST)