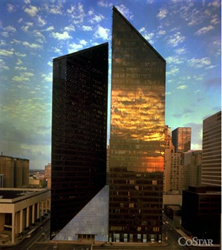 Houston, TX (PRWEB) March 11, 2014
Houston-based law firm Ogden, Gibson, Broocks, Longoria & Hall, L.L.P. (OGBL&H) signed an agreement to renew its lease and remain downtown at Pennzoil Place where the firm been for the last 20 years. The firm will continue to occupy the 19th floor, for a total of 13,166 square feet.
Kevin Hodges, Senior Managing Director at Studley's Houston's office represented OGBL&H in the agreement and Transwestern represented the landlord Houston Pennzoil Place L.P.
According to Hodges, the decision for OGBL&H to remain in its current space made the most sense for the firm and Pennzoil Place was very pleased to retain this long-term, well-established law firm in its Building.
About Ogden, Gibson, Broocks, Longoria & Hall, L.L.P.
Ogden, Gibson, Broocks, Longoria & Hall, LLP is a Houston-based law firm specializing in complex civil litigation, arbitration, and appeals. OGBL&H attorneys practice in all state and federal courts and have appeared before most administrative and regulatory authorities. For more information please visit http://www.ogblh.com.
About Studley
Studley is the leading global commercial real estate services firm specializing in tenant representation. Founded in 1954, Studley pioneered the conflict-free business model of representing only tenants in their commercial real estate transactions. With over 60 offices worldwide, Studley offers expert advisory services, including brokerage, project management, corporate services and strategic portfolio solutions. Studley's unique approach examines every client's business to fully understand corporate objectives and optimize real estate assets. For more information, please visit http://www.studley.com and follow us on Twitter @StudleyInc and LinkedIn.
# # #