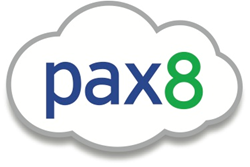 Lone Tree, CO (PRWEB) March 11, 2014
Pax8, a cloud commerce marketplace, today announced the launch of the Pax8 Cloud Network, a suite of cloud networking products designed to help small and mid-sized businesses (SMBs) migrate key networking components away from expensive, resource-intensive on-premises hardware to cloud solutions.
The three Pax8 Cloud Network products – Pax8 Cloud Drive, Pax8 Cloud Servers, and Pax8 Cloud Desktops - are pre-configured by Pax8 and enable organizations to quickly deploy a complete virtual network, or ease their way into the cloud by adding one component at a time. All Pax8 Cloud Network products are powered by industry-leading Amazon Web Services and provide anywhere, anytime access over any PC, laptop, tablet or mobile phone, either over the web or via a convenient mobile client.
"Pax8 Cloud Network products are built with the SMB in mind, and are easy to deploy, use and scale while delivering enterprise-level computing power," said John Street, CEO, Pax8. "As cloud-based products, they can help any business to reduce its overall cost of ownership and to increase operational efficiency."
All Pax8 Cloud Network products can be purchased separately or bundled, and as new components are added, they are configured with the existing components – all with Windows operating system software installed – to create a fully integrated solution. In addition, all Pax8 Cloud Network products are housed within highly secure environments that are protected by built-in software firewalls.
The Pax8 Cloud Network products include:

Pax8 Cloud Drive – The Pax8 Cloud Drive works as an extension of a business' storage capacity, without requiring local disk space, and makes file sharing, data backup, and storage simple. The virtual network drive can be mapped to Pax8 Cloud Servers and Desktops, as well as computers on the local network, and is an efficient solution for file syncing, transfer and backup.
Pax8 Cloud Servers – Pax8 Cloud Servers are designed to help businesses increase network performance while reducing overall costs and risk of data loss. Pax8 Cloud Servers operate as the control hub of the virtual network and include full administrative privileges that can control access to desktops on the network and enable administrators to implement Active Directory group policies. Administrators are able install business-critical software on Pax8 Cloud Servers, which are loaded with the Windows 2012 operating system.
Pax8 Cloud Desktops – Pax8 Cloud Desktops provide users with easy access to all of an organization's business-critical applications, over virtually any Internet-enabled computer or device, at any time. Each Pax8 Cloud Desktop comes with a fully installed Windows operating system, and each user receives a login to their individual desktop. Pax8 Cloud Desktops are an ideal solution for businesses with mobile or seasonal workforces.
"SMBs today can benefit greatly from a virtual private cloud environment like the Pax8 Cloud Network," said Street. "Our cloud-based networking solutions provide organizations with enterprise-level efficiencies, while delivering increased reliability and unparalleled flexibility. In addition, they can help any business to easily expand its local network, strengthen network security, and improve protection of mission-critical data."
More information on the Pax8 Cloud Network can be found on http://www.pax8.com and by downloading the Pax8 White Paper "The Cloud Revolution – Freedom for Servers, Desktops, and Drives" at http://www.pax8.com/lead-gen-form?doc=f-009b.
About Pax8
Pax8 is a cloud commerce marketplace focused on the delivery of cloud-based solutions to a global network of channel partners and their customers. Pax8 is leading the transformation of its partners' businesses to becoming cloud-centric by efficiently delivering aggregated cloud services through its proprietary marketplace technology platform, the Pax8 Command Console, and accelerating new client growth through its proven, collaborative customer acquisition programs. The comprehensive Pax8 approach is built specifically to help partners adapt their businesses to meet the unique demands of cloud sales and support. Learn more at http://www.pax8.com.
Pax8 Contact
Steve McCutcheon, CMO
Email: smccutcheon(at)pax8(dot)com
Phone: (719) 331-0033
Twitter: @SNMcCutcheon