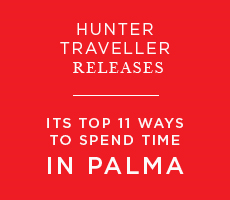 There is no dress code – just an appetite for the good life.
Dartington, Devon (PRWEB UK) 11 March 2014
Hunter Traveller, a leader in visual destination guides, is excited to share our top 11 suggestions for how to spend the day in Palma, which we feel can quite rightly lay crown to the coolest city in Europe.
We know of nowhere so cosmopolitan, so seductive, yet with such a gentle easy going nature. The discerning traveller is spoilt for choice with the city's eclectic mix of bespoke hotels, relaxed cafes, contemporary art and upmarket restaurants.
Palma offers so much, the bigger stuff we think you'll do anyway. But sometimes it's the smaller simpler details that offer the true feeling of the destination.
Here are a few of our recommended daily routines worth experiencing when in Palma…
1) Start the Morning at Fibonacci
Find a perfect breakfast, with fresh pastries and a great selection of speciality coffee. Ethically sourced unique blends predominantly from Central America are served by qualified Baristas. Clean flavours, a sensory experience, stylish surroundings and friendly service. It's true Balearic hospitality (with a Scandinavian twist) at its very best.
2) Take a Walk around Santa Catalina
This area just to the west of the city centre is home to some eclectic shops and boutiques, a modern art gallery and also a great market. This is where locals shop for their fruit, vegetables, cheeses, sausages and olive oils, saffron, paprika, almonds and pine nuts. Monday is market day. Browse then eat. Soak up the atmosphere.
3) Stop for a Late Morning Pot of Tea (we would recommend Taj Mahal) at Cappuccino Grand Café at Palau March
Positioned near the Cathedral and museum, here you can feel the cosmopolitan Palma way of life. From the casual to the extraordinary, anything goes. A real energy and buzz pervades.
4) Time to Start some Serious Shopping at Rialto Living
Founded by respected designers Klas Kall and Barbara Bergman in 2007, Rialto Living is Palma's first lifestyle store. Dedicated to fashion, furniture, books, gifts, accessories and art aimed at well-travelled clients with an interest in fashion and design. All the items are personally selected and chosen for their quality, flair and uniqueness. From clothes to home furnishings, everything is under the one roof. It truly is an inspiring environment shaped by a very personal vision. A definite must visit.
5) Imaginarium for the Children
It has to be one of the most exciting toy shops in the word. From the moment you walk in (children through the small door, adults through the big), you feel like you are seven again thanks to a thrilling display of educational toys and books, musical instruments and artwork for little ones.
Anything you buy is specially wrapped with an Imaginarium sticker and lolly pop. No matter how small, your purchase, the experience is always made special here.
6) History, Art, Culture: A Walk around the Old Town
Off the main thoroughfares, gorgeous paved squares with fountains, townhouses, terra-cotta roofs, the cathedral and palm trees bring a soft focus and refinement to the urban space. Browse the art galleries, boutiques and book shops. Be sure to visit the Es Baluard Museum of modern and contemporary art in Santa Catalina.
7) Hire a Bike and Cycle along the Promenade of the Paseo Maritimo Strip
Head out past the cathedral towards Playa de Palma and on to El Molinare. The scenic route allows you to take in the coast and picturesque coves whilst filling your lungs with the fresh sea air.
8) Time to Re-Fuel? Time for Cappuccino Weyler
This is a take away version and we have to say, one of our favourites. This is perfect for a quick afternoon pick-me-up when you just want something simple and fresh. A fruit salad and yoghurt are best enjoyed at a pavement table. Outside of the summer months, small fires are dotted between the tables and a roof awning protects you from the small chance of rain. Winter is beautiful here, as is summer. Right on the edge of the main thoroughfare, this is another great spot to take in the buzzing way of life that the capital does so well.
9) Is it Time to go back to Rialto?? Always
We find an early evening browse very therapeutic. Multiple visits in one day are perfectly normal (well they are for us!). A sniff of the lovely perfumes, a flick through the books, this irresistible environment is like a shopping sanctuary. The obliging staff are consistently helpful and it feels like shopping should. You will always find an excuse to buy a gift for somebody here or, of course, yourself.
So we've done a fair bit of café crawling, but a last pot of tea taken in the Rialto café helps you to round off the day just perfectly. The table at the window is the best, offering a peaceful spot to watch the world go by.
10) Staying the night..? Check in to Boutique Hotel Calatrava
Set within the old Arab wall, just a short walk from the cathedral, this boutique hotel strikes just the right balance between design and comfort. A small spa with Finnish sauna can help prepare for a restful night's sleep. You could even book a private yoga class.
11) By Night
If you did feel like going back out in the dark, the walk from Calatrava back to the main town is stunning. Passing the cathedral at night, the beauty is overwhelming. The air is fresh, blowing in from the Mediterranean Sea; the atmosphere is gentle for a city. Soon you will be back in the heart of the capital, where you can comfortably stroll around until you stumble on somewhere to take dinner. The sheer diversity is thrilling. Food here is one of life's great pleasures – dinner rarely kicks off before 7.30pm so never a rush. The fact that Fernando Pérez Arellano decided to move his Michelin starred restaurant from Madrid to Palma says a lot about the ambition here. It's an eclectic mix of backgrounds and nationalities where different cooking styles and influences have melted together. Choice and consistency is never an issue.
A final note on Palma: Life here is a sensory experience. It's fresh, youthful and innovative. Business clientele drawn from all the leading economies combine to create a cool, confident international mix of personalities.
There is no dress code – just an appetite for the good life.
About
Hunter Traveller strays from the beaten track and is deliberately aimed at the discerning, the curious and the adventurous. Marks of quality are more than just luxury, location, price and aesthetics. The treats, the indulgences, the luxuries as well as the more simple things, we love them all in equal measure.
For more information, visit: http://www.huntertraveller.com.