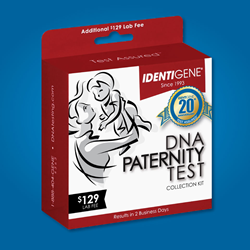 Each paternity story is different and it's important for us to be an advocate for our customers during these life changing times.
Salt Lake City, UT (PRWEB) March 11, 2014
Identigene, one of the largest direct-to-consumer DNA paternity testing laboratories and maker of the IDENTIGENE Paternity Test Collection Kit available in drugstores and supercenters nationwide, announced today the company has launched a newly redesigned resource center to give customers and those searching for support helpful information needed to make healthy decisions about paternity and paternity testing.
Find the IDENTIGENE® Resource Center here.
In response to a recent survey conducted by IDENTIGENE that revealed 1 in 5 Americans say they or a close friend or family member have questioned paternity, Identigene created the IDENTIGENE Resource Center, rich in content, images and videos, to help bring customers and potential customers, answers to questions about paternity. Besides the helpful articles, the resource center is designed to be user friendly and give quick access to needed information.
The new Resource Center houses hundreds of articles, videos and other helpful resources. Among those articles are several from Dr. Janet Taylor, nationally known psychiatrist and Identigene spokesperson, who gives individuals helpful tips on how to best approach paternity questions so all parties involved feel respected and informed. Other topics of interest in the Identigene Resource Center include Frequently Asked Questions, Paternity Conversations, Legal Matters, Science and Technology, the IDENTIGENE Genetipedia™ and How the IDENTIGENE Paternity Test Works.
"We are pleased to offer tools and resources to help individuals looking for paternity information, many whom may be nervous or guarded about getting a paternity test, feel comfortable with the process and be confident in the results we give them," said Steve Smith, executive director of Identigene. "Each paternity story is different and it's important for us to be an advocate for our customers during these life changing times."
Identigene hopes that the newly designed resource center will showcase the company's dedication to providing current customers and potential customers with a stress-free, user friendly and informative experience.
About Identigene
Identigene is a global leader in DNA paternity testing, providing both personal and legal paternity tests, as well as other relationship testing, such as grandparentage and siblingship. Identigene is America's #1 brand for DNA paternity testing, recognized by doctors, lawyers and the American consumer. Identigene, the first and only company to bring DNA paternity testing to the general consumer through major drugstores and supercenters , and is nationally and internationally accredited for both DNA paternity and molecular diagnostic testing services. Identigene is a privately-held, wholly-owned subsidiary of Sorenson Genomics, which is a highly accredited genetic laboratory renowned for its expertise in human identity, forensics DNA testing, and population genetics.
Visit [http://www.DNAtesting.com for helpful tips and information including how-to videos, product reviews. Connect with Identigene on Facebook at http://www.facebook.com/identigene or follow the company on Twitter at @Identigene.