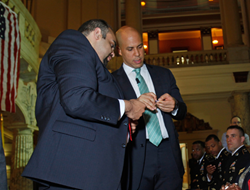 Marlton, NJ (PRWEB) March 10, 2014
For the over 200,000 military veterans living in South Jersey and along the Jersey shore, going to see their doctor is one of the most difficult and complicated aspects of their lives. As veterans are only able to receive medical treatment from VA hospitals, they are forced to travel for hours and often across state lines just to see their doctor. But now, after decades of struggling with an archaic and burdensome rule, these veterans may finally have a chance to get the healthcare they deserve.
Senator Cory Booker (D-NJ) will introduce an amendment in the U.S. Senate that gives New Jersey veterans who currently must travel far distances to the nearest VA hospital, many of whom live in South Jersey and along the Jersey Shore, the ability to use their healthcare benefits at their nearest local hospital. This is the most major expansion of veterans' healthcare services on any level in decades, as veterans will be able to use their VA healthcare card like any other insurance card and go to a hospital near their home.
This amendment is based in large part off the advocacy of the GI Go Fund at its Executive Director Jack Fanous, who has been advocating giving veterans in the southern part of the state the ability to see any doctor they wish to rather than being limited to one doctor in a VA hospital hours away. The amendment was most recently discussed on a conference call between Booker, Fanous, and other community leaders.
"This would be a huge breath of fresh air to the veterans' community," said Fanous. "Right now, veterans are just flat-out being discriminated against because of their veteran status. I live in Marlton, NJ, which is a half hour outside Philadelphia. If I want to go to my doctor or need to go to the hospital, I can just go down the street and get healthcare. But if my neighbor, who is a veteran, wants to get healthcare, he has to drive into Philadelphia, pay tolls, find parking, and wait for hours to see the only doctor that he is allowed to.
Booker and the GI Go Fund have worked closely together helping veterans for over six years. In 2008, then Mayor Booker and the GI Go Fund forged an innovative and historic partnership in Newark, NJ to help veterans access needed healthcare, find work and get off the streets. The program, which was the first time a nonprofit was brought in to run a municipal office for Veterans, has received national attention, having been featured on ABC's reality show "Secret Millionaire", CNN and Fox News.
"I am so glad to see that this legislation is being introduced for my neighbor and the hundreds of thousands of veterans like him. Senator Booker has shown his ability to go above and beyond for veterans, and this legislation shows that with both he and Senator Menendez, the veteran population will continue to be well represented in the Senate," added Fanous.
According to VA policy, all veterans enrolled in the system must get their healthcare from a VA facility (or at least a VA sanctioned clinic). While some veterans living in densely populated cities are not adversely affected by this rule, millions of veterans living in more rural areas, hundreds of miles away from a metropolitan area, are left with a long trip and no options.
The Senator will introduce the amendment during this current legislative session. If it successfully passes and is signed into law, the veterans of South Jersey and the Jersey Shore will have their access to healthcare greatly improved.