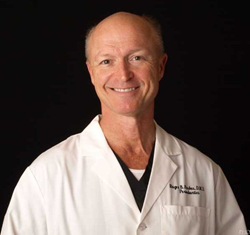 Jackson, MS (PRWEB) March 10, 2014
During Gum Disease Awareness Month, Drs. Roger B. Parkes and R. Clarke Stewart of Periodontal Associates of Jackson, P.A. want Jackson residents to know about their options for effective gum disease treatment. The advent of the Laser Assisted New Attachment Protocol (LANAP®), a highly effective laser procedure, makes it possible to tackle gum disease causes in less time and with less discomfort.
Some common gum disease causes are directly related to lifestyle such as smoking or stress. Others, however, are affected by things often outside of a patient's control such as genetics, hormonal shifts or the presence of other conditions such as diabetes. No matter the reason, when infection takes hold in the gums, the need for proper gum disease treatment in Jackson is important. Gum disease can increase a person's risk for heart disease, stroke, premature birth and many other health problems.
Traditionally, most Jackson patients had to face scalpel surgery as the primary form of gum disease treatment. Now, however, Drs. Parke and Stewart are able to utilize laser technology to vanquish diseased gum tissue in a fraction of the time. Additionally, the lack of need for sutures dramatically reduces the pain and recovery time that commonly accompanies gum surgery. In fact, most people who undergo LANAP® are able to leave the doctor's office and resume their daily activities.
Drs. Parkes and Stewart encourage patients to take advantage of the focus on gum disease to learn more about gum disease causes and what changes they can make to prevent or reduce the impact of such infection. For situations where periodontal disease cannot be managed solely by lifestyle or home care, people in Jackson can trust the professionals at Periodontal Associates of Jackson, P.A. to offer the latest in gum disease treatment that provides optimal dental and overall health. Anyone interested can visit http://www.periojackson.com or schedule a consultation with either Dr. Parkes or Dr. Stewart by calling the office today.
About The Doctor
Periodontal Associates of Jackson, P.A. is a periodontal practice offering personalized dental care for patients in Jackson, MS since 1981. Dr. Roger B. Parkes was accepted into the first class at the University Of Mississippi School Of Dentistry and received his dental doctorate there. He attended Baylor College of Dentistry in Dallas, TX for his Periodontics studies and graduated with his Masters of Science in Dentistry. Dr. R. Clarke Stewart received his B.S. degree in Biology from Mississippi College, and graduated cum laude from the University Of Mississippi School Of Dentistry. He became certified in periodontics from the University of Alabama. Drs. Parkes and Stewart are part of one percent of dental professionals providing the LANAP® FDA cleared laser procedure for gum disease and periodontal treatment. To learn more about Periodontal Associates of Jackson, P.A. and their dental services visit their website at http://www.periojackson.com and call (769) 230-3500.