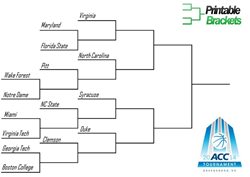 (PRWEB) March 11, 2014
The regular season in college basketball has come to a close and postseason play is underway. Before the official start of March Madness comes conference tournaments around the country. Schools squarely on the bubble have the opportunity to strengthen their case for an NCAA tournament bid with a strong conference tourney run. The same schools can also play themselves right out of the "Big Dance".
Now, the online leader in sports brackets has release all the brackets for the upcoming week of tournaments, including the much-anticipated ACC basketball tournament.
"This is the time where college basketball begins to take center stage in the world of sports," said Printable Brackets spokesperson Zaniel Worth. "The conference tournaments are a great appetizer for next week's main course."
For the first time ever, this year's expanded ACC basketball tournament bracket has a 15-team field. After winning the regular season conference crown, Virginia has the top seed and a double bye. Syracuse, Duke and North Carolina also have double byes. The ACC basketball tournament begins on Wednesday, with the championship game taking place on Sunday.
The ACC basketball tournament is just one of many conference tournaments getting underway this week. On Wednesday, the Big East, Big 12, Pac-12 and SEC will all begin their respective tournaments. The Big Ten basketball tournament will get underway on Thursday.
Updated brackets for each conference tournament are now available on PrintableBrackets.net. Each bracket is instantly downloadable, printable and available at no charge.
"We have everything fans need to follow March Madness from the conference tournaments until a national champion is crowned," said Worth. "Following your favorite teams and bitter rivals couldn't be any easier."
For the printable ACC basketball tournament and for all things March Madness, please visit PrintableBrackets.net today.