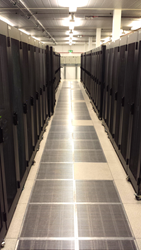 (PRWEB) March 12, 2014
iM has just completed their recent expansion with the addition of three new colocation datacenters, in London, San Francisco and Vienna VA. iM's new facilities, each about 25,000 square feet, contain a significant amount of space and power capacity available for new customers. These strategically-located facilities have fully redundant power and cooling infrastructure, benefit from robust carrier network options and serve as key connectivity hubs for international business.
In Miami, iM also doubled their datacenter footprint, completed the related expansion build-out and infrastructure upgrades, and has been successful in acquiring several new customers as well as network service providers to enhance their options there. This facility, located at the fifth floor of the Digital Realty building located at 36 NE 2nd Street, sits on iM's own metro dark fiber optic loop, provides a dedicated colocation environment for growing commerce in Miami as well as a connectivity hub to serve Latin America and the Caribbean with excellent carrier diversity and has been in operation for over ten years without an outage.
The iM Companies also design, engineer and build modular datacenter facilities, and have recently completed the installation of four modular colocation facilities in Florida, and will install another seven in the Southeast US before the end of the year.
"After using most of 2013 to assemble our current datacenter footprint and create the key capabilities and offerings required for strategic and sustainable growth," said iM's CEO, Michael Roark, "iM is very excited to bring our improved and expanded offerings to market."
iM provides a comprehensive suite of related IT infrastructure solutions... colocation at it's four metro hubs and modular datacenter locations; hosting, cloud, exchange and dark fiber services; and design / build / development of both modular and traditional datacenters.