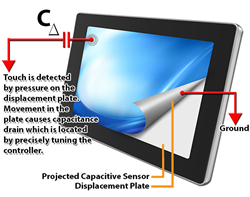 From the battlefield and the cockpit to the operating room, this changes everything.
Austin, TX (PRWEB) March 10, 2014
Specialty touch screen and display enhancement manufacturer, Touch International confirmed today the release of a new touch sensing technology that overcomes the limitations of current projected capacitive (p-cap) offerings. PCAP Plus technology features multi-touch with gestures and works with fingers, heavy gloves, or any other input device. Additionally, the sensor is designed with a unique construction that performs in compliance with military, aerospace, and medical EMI/RFI requirements.
"Our experience in the high reliability markets has shown a clear missing link between the features and limitations of resistive and projected capacitive touch technology," says Michael Woolstrum, CEO. "With PCAP Plus we've not only bridged the gap, but have also provided the added bonus of EMI/RFI performance. From the battlefield and the cockpit to the operating room, this changes everything."
Touch International's team of engineers at the Austin, Texas R&D center started with their latest projected capacitive sensor designs and ultra-thin controllers. Using an extensive library of proven components and advanced tuning of the controller, they developed a conductive upper displacement plate. The plate gives the sensor multi-input properties and EMI performance without compromising optical clarity or multi-touch abilities. The company also ensured the sensor can be built using the myriad of substrates and transparent conductors the market has to offer.
PCAP Plus is immune to on-screen contaminants, extreme temperatures, and works when submerged in water. While the company has developed traditional projected capacitive sensors with immunity to water mist, traditional projected capacitive remains unable to maintain full functionality with pooling water or completely submerged. Easy to use, PCAP Plus requires only light pressure to activate and is precise and highly responsive. PCAP Plus doesn't require recalibration and is maintenance free.
One of the most common problems implementing projected capacitive technology is the electromagnetic interference or susceptibility. Independent lab tests on TI's PCAP Plus show all sensors tested pass EMI/RFI compliance for MIL-STD-461F, DO-160E, and CISPR25. This enables military, aerospace, transportation, and medical designers or manufacturers to tackle EMI/RFI compliance and regulation issues easily at the component level.
"Since projected capacitive exploded on the market in 2007 with the iPhone, you haven't really seen a 'next big thing' in touch," says Shaun Detmer, Marketing Director. "The mission critical markets have been, in many applications, stuck with outdated resistive technology. Those days are over."
All PCAP Plus touch sensors work with Windows 7/8 as well as other operating systems, but must be customized for customer specific enclosures and displays. Sensors are available with I2C or plug-n-play USB connectivity. Current designs can be scaled up to 12 inches and will be available up to 24 inches in Q2 2014. Demo kits are available built to order and can feature add-ons such as sunlight readable displays and optical bonding.
About Touch International
Touch International is the leading manufacturer of specialty touch screens and display enhancement windows, and is the largest touch manufacturer in North America. Headquartered in Austin, Texas, the company was founded in 2002 by Michael Woolstrum and long-time veteran, Gary Barrett, the company's CTO. The company is world-renowned for its expertise in optically clear touch panels, EMI filter technologies, and custom touch screen designs for military, aerospace, medical, transportation and retail applications. Touch International was first to produce the iPhone-type projected capacitive touch screen for business applications, and also builds resistive sensors and glass filter products used in touch screens, display windows, anti-reflective and anti-vandal filters.