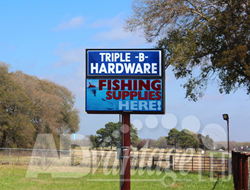 People keep coming in and saying that they never knew we were here…they sure do now! – Tony Bielamowicz
Bremond, TX (PRWEB) March 12, 2014
Bremond, TX is the kind of small town that countless movies have been made about. The type of idyllic setting where time seems to move just a little bit slower, where the breeze is just a touch sweeter. Everybody knows everyone else, nothing really changes, and the residents are perfectly okay with it.
Until the local bolts, nails and whatnot spot at the edge of town hung up a Retail LED sign in front of their store.
The 900 some-odd country folk in the tiny Central Texas area are all aflutter over the new high definition LED sign at the Triple B Hardware on the dusty stretch of South Highway 14, and it seems like it's all anybody is talking about.
"You can see it from miles away – it's like something from another planet!" exclaimed one resident, shaking his head in amazement.
Tony Bielamowicz, the owner of the establishment, just chuckles at the interest his town has taken in the 3'-6" x 8'-1" 12.5mm iPixel high definition LED sign. He had long wanted to do something to "shake up some interest" in his year-old location. After talking with a couple of "hucksters," he finally found Advantage LED Signs in Houston and purchased the digital sign along with an identification paneling. It sat in a storage shed for a while until him and an electrician buddy installed it in a day or so.
"Man, I should've done this years ago," he lamented. When asked if the sign brings people in, Bielamowicz quickly answers with a hearty "hell ya!"
He goes to say that although he's been at the same location for a while, it was the allure of the large electronic sign and the animated graphics bouncing and flashing around that finally got him discovered.
"People keep coming in and saying that they never knew we were here…they sure do now!"
The local paper recently came out and did a feature magazine on Triple B Hardware, mentioning the "bright new sign for all to see."
He plans to test the sign's response by putting up a mysterious free stuff graphic and gauge how much stuff he actually has to give away. He's excited to try the idea, but hasn't been able to determine exactly what the giveaway will be.
The only problem might be the free iPad that came with the purchase, because, as Bielamowicz, plainly states, he's "not a real computer guy." The store has no website.
Why would they need one? They have the brightest beacon in Bremond.
"We absolutely love the sign! We're the talk of the town."
About Advantage LED Signs:
Established in 2009, Advantage LED Signs is a US manufacturer of LED signs and LED Billboards, selling direct to businesses and organizations nationwide. Advantage LED Signs operates as a total turn-key solution provider, stating that no job is too big or too small.