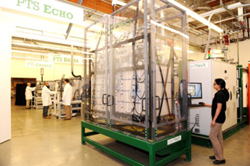 Ascension has been a key contributor to EnerVault's success
Sunnyvale, Calif. and North Tonawanda, NY (PRWEB) March 11, 2014
EnerVault, designer and manufacturer of long-duration, grid-scale energy storage systems today announced that it has named New York-based Ascension Industries as a preferred supplier. Ascension's expertise and track record providing engineering solutions and manufacturing reliable and cost-effective process equipment led to the selection.
"EnerVault is pleased to welcome Ascension Industries as a preferred supplier for our long-duration, iron-chromium redox flow battery systems," said Jim Pape, EnerVault CEO. "Ascension has been a key contributor to EnerVault's success, supporting our technology development by both demonstrating prototypes and establishing manufacturing testing. We value
Ascension's proven expertise in manufacturing industrial-scale, process systems."
"Ascension's expertise in providing customers with turnkey solutions is a great fit for manufacturing EnerVault's long-duration, grid-scale energy storage systems, which are based on well-established technologies already utilized in the chemical industry," said Don Naab, Ascension Industries' CEO. "We look forward to sharing the growth opportunities from the rapidly increasing global demand for energy storage systems, including utility projects in our home state of New York."
Ascension Industries has made significant contributions as an early and repeat supplier to EnerVault. In 2010, Ascension manufactured and delivered EnerVault's first integrated prototype system used to demonstrate EnerVault's core technologies, funded by a grant from NYSERDA. In 2012, as part of a U.S. Department of Energy (DOE) ARRA Storage Demonstration Program award, Ascension manufactured factory test equipment used to qualify each power unit of EnerVault's production systems. In January, 2014, with partial funding from the DOE award, EnerVault began commissioning the world's largest iron-chromium redox flow battery -- a 1 megawatt-hour, 250 kilowatt system located in Turlock, Calif. This world-record redox flow battery system was constructed using learning developed with the support of Ascension Industries and is designed to continuously deliver full rated power for up to four hours.
About EnerVault:
EnerVault designs and manufactures long-duration, grid-scale energy storage systems based on iron-chromium redox flow battery technology pioneered by NASA. EnerVault's energy storage systems offer grid operators the flexibility to both absorb and deliver energy to cost effectively manage system efficiency, increase reliability and integrate renewable resources. Based in Silicon Valley, EnerVault is the first company to deploy megawatt-hour scale iron-chromium redox flow battery systems in field operations. For more information, visit http://www.EnerVault.com.
About Ascension Industries:
Founded in 1956, Ascension Industries, Inc. is a manufacturer of industrial process, power generation, petrochemical and filtration equipment. Ascension offers Fortune 500 companies in the metal-working, petrochemical, oil and gas, aerospace, process equipment and automation industries high-quality, cost-effective, precision turnkey manufacturing services and system solutions. For more information, visit http://www.asmfab.com.