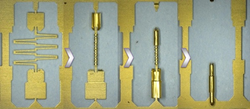 (PRWEB) March 12, 2014
After over ten years of painstaking research and development, C2WIDE reinvents the probe pin manufacturing process with the OBP Pin, creating a fantastic combination of high mold design capacity and press processing technology. OBP Pin has the following four key characteristics.
Good Yield Rate for 1st Test
OBP Pin boasts a first test yield rate of 97-98%, a huge improvement compared to 91% yield rate for conventional probe pins resulting in shorter test periods and cost savings.
High Electrical Performance
One Body Probe Pin is made of one single electrical conductor, meaning there is no contact area between plungers and barrel. Since there are no obstacles that hinder a flow of electrical current, electrical performance is enhanced drastically.
Resistance rate of OBP Pin is under 40mΩ and carries up to 7amps. By contrast, ordinary conventional probe pin carries less than 1amp and sparks will occur when more than 1 amp is carried.
Furthermore, OBP pins' gold-plating is uniformed, further reducing contact resistance while testing.
Long Cleaning Cycle due to Less Dirt Accumulation on the tip
With breakthrough mechanical designs, OBP Pins enables tests to be conducted with less press force resulting in less dirt accumulation on the crown tip, thus reducing cleaning times.
Low price
OBP is an all-in-one type spring probe produced 100% by fully automated machinery.
This production method reduces labor costs and increases productivity.
About C2WIDE
C2WIDE has been a dedicated IT technology semiconductor company specialized in IC Assembly Machine Overhaul, One Body Probe Pin for IC Test, and developing and manufacturing various tools and parts for semiconductor industry since 2007.
C2WIDE is currently expanding its business worldwide, supplying patented and revolutionary One Body Probe Pin and specializing in IC Assembly Machine Overhaul. C2WIDE has reputation for high quality research, development and manufacturing.