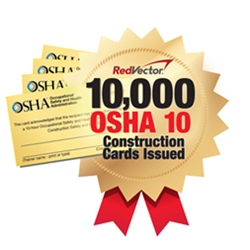 "We're incredibly proud that our OSHA 10 coursework has now helped 10,000 workers across the country understand OHSA standards and protections, learn to take precautions against hazards on the job and overall, make their workplaces safer."
Tampa, FL (PRWEB) March 11, 2014
RedVector.com, the leader in online learning and workforce training solutions for the architecture, engineering and construction (AEC) industries, reached a landmark this week, issuing its 10,000th Occupational Safety and Health Administration (OSHA) 10 Construction Card.
The OSHA 10 Construction Card is an on-site safety certification given to entry-level workers who complete the 10-hour online Construction Industry Outreach Training program and prove their comprehension of OSHA-regulated health and safety topics and requirements.
"Every employee who comes home safe and healthy at the end of the workday is someone's family member, neighbor or friend," said longtime instructor and OSHA Outreach Trainer Bob Layman. "That's why providing consistent and effective safety training is so critical. OSHA 10-hour training provides the groundwork to understand basic OSHA requirements, but most importantly, gives workers the tools to control the hazards in their work environment."
In order to complete the OSHA orientation and earn the OSHA 10 Construction Card, more workers have come to recognize and rely on training from RedVector.
"The exceptional quality and affordability of our e-learning for construction professionals has made us their go-to training provider," said Victoria Zambito, RedVector Business to Professional President. "I am incredibly proud that our OSHA 10 coursework has now helped 10,000 workers across the country understand OHSA standards and protections, learn to take precautions against hazards on the job – everything from electrical issues and falls to demolition dangers – and overall, make their workplaces safer."
About RedVector
RedVector sets the standard for excellence in online continuing education and training for the architecture, engineering and construction (AEC) industries and holds more than 60 state and national accreditations. RedVector offers individual courses as well as large-scale corporate training solutions for AEC firms featuring customizable and easily accessible online universities with a full range of tracking and reporting features. With an online library exceeding 1,100 courses authored by more than 100 subject matter experts, RedVector.com serves more than 130,000 AEC professionals in all 50 states. The recipient of numerous community honors and industry awards, RedVector was founded in 1999 and is headquartered in Tampa, Florida. For further information, call 1-866-546-1212 or visit RedVector.com.