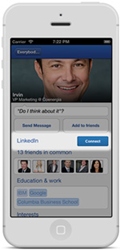 By nature, meetings should be interactive and collaborative. The PYM community gets that.
San Francisco, CA (PRWEB) March 11, 2014
Most networking events shoehorn education into an hour-long presentation that's sandwiched between meals and handshakes. Plan Your Meetings takes an integrated approach to learning that sets it apart from other meetings media companies. PYM sees every component of the event agenda as an opportunity to educate, inform and inspire its audience of meeting and event planners. As a result, attendees know they won't just be talking about new ideas at PYM LIVE, they'll be experiencing them. On March 27, at the Westin St. Francis, PYM LIVE: Sites & Bites attendees will be among the first in the industry to experiment with beacon technology and an app that turns your phone into a portable microphone.
The Crowd Mics app, which generated major buzz at last month's LAUNCH Festival, will help attendees be heard during PYM LIVE's educational sessions.
"By nature, meetings should be interactive and collaborative," says Crowd Mics Co-Founder Tim Holladay. "The PYM community gets that. Crowd Mics is a simple yet powerful application that let's the audience be heard and we are honored to share this brand new technology with PYM."
Another way event organizers can engage and interact with attendees is through beacon technology. Beacons may be coded with content and arranged in different zones. Whenever someone enters that zone, content is shared with them via RFID/NFC or Bluetooth transmissions as the attendee's movement is noted by the device. The same beacon may be coded with different media to be delivered to different types of attendees simultaneously. In real time, beacon data creates a heat map organizers can use to correct traffic flow or better engage their guests. PYM LIVE will be testing beacons in San Francisco for developers at Topi, its official event app, to see how tailored content transmissions and data tracking best integrates with the networking-centric geo-locating mobile app.
"Topi has been a longtime PYM strategic partner and, as a technology company, we love the forward-thinking mentality that PYM brings to the world of meetings and events," says Topi's Chief Operating Officer Eric Francois. "We're excited to once again use a PYM event to test new cutting-edge features and gather precious feedback from its talented and innovative community."
PYM LIVE San Francisco: Sites & Bites will take place on March 27, from 2-7 p.m. at the Westin St. Francis. In addition to the new technology, it will feature bite-sized accredited education on the topics of contract negotiation and food and beverage, as well as site selection speed-networking, on-demand fitness breaks and a wine tasting sponsored by Visit Tri-Valley. PYM LIVE Events are open to planners responsible for site selection for their company or client's meetings and events and take place across America. To read about the full range of experiments on display, read the 2014 Guide to PYM LIVE Innovations.
Contact Kristi Casey Sanders (404-531-5603) for media passes or to arrange interviews.
###
ABOUT PLAN YOUR MEETINGS
During the recession of the early 1990s, hoteliers in Atlanta noticed something peculiar: Companies were eliminating their meetings departments, but the meetings were still taking place. Hotel and CVB representatives needed to get in front of those untitled meeting planners, but had no easy way of doing so. In 1993, a consortium of five Atlanta hotels approached Tom Casey, former Atlanta Magazine publisher and then-owner of WHERE Atlanta, with the idea to start a niche publication for the administrative and marketing professionals who were planning corporate meetings and events. Since its launch in 1995, Plan Your Meetings has evolved from a regional publication to a digital media channel that produces daily educational and social content online, an augmented reality-enhanced annual publication, frequent G+ Hangouts and webinars, and nearly a dozen live events across the country.