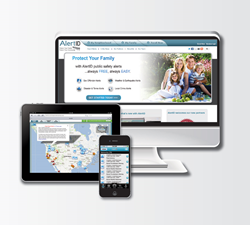 AlertID is offering a vital service to community members, and Maponics is delighted to be partnering with them... Darrin Clement, CEO and Founder of Maponics
Las Vegas, NV and White River Junction, Vt. (PRWEB) March 11, 2014
Today, AlertID announced a partnership with Maponics to integrate more than 150,000 North American neighborhood boundary definitions into its online and mobile platforms.
"AlertID currently has members in more than 59,000 neighborhoods across the US and is growing every week," said Ken Wiles, CEO of AlertID. "AlertID provides the fastest growing neighborhood social network, built on a foundation of trusted public safety information. Maponics is the leading provider of geospatial neighborhood information across the country, and we are very pleased to be expanding our platform offerings with Maponics"
"AlertID is offering a vital service to community members, and Maponics is delighted to be partnering with them," said Darrin Clement, CEO and Founder of Maponics. "The reason we delineate geographies at the neighborhood level is to reflect real-world experiences. AlertID is an excellent example of an application of Maponics geospatial data that significantly improves people's lives."
AlertID will begin releasing new member services in the next several weeks, with a complete roll-out anticipated by the end of the summer.
###
About AlertID
AlertID is the fastest growing neighborhood social network, driven by trusted safety alerts and neighbor communication. Alerts are provided by trusted sources including neighbors, public safety agencies, local law enforcement, neighborhood groups, family members and friends. AlertID has members in all 50 states and more than 85% of all US Zip Codes. To sign up for free, go to http://www.AlertID.com.
Become a fan of AlertID: Friend us on Facebook | Follow us on Twitter
About Maponics
Maponics is the market leader for comprehensive geospatial datasets that underpin today's location-based services and analytics. Maponics creates, publishes and updates geographic files for the areas that define where people spend their time and money, such as Neighborhood Boundaries, ZIP Code Boundaries and School Boundaries. Maponics' customers include many of today's best-known web, social media and real estate brands, including over 70% of the top real estate websites. The company is headquartered in Vermont. For additional information, visit http://www.maponics.com.