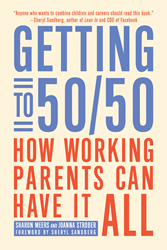 Getting to 50/50 highlights the perpetual debate about the proper work-life balance for parents, particularly for women. —CBS Money Watch
(PRWEB) March 11, 2014
Sharon Meers, who co-authored Getting to 50/50: How Working Parents Can Have It All (with a foreword from Facebook's Sheryl Sandberg), was quoted in Cosmopolitan's article that asks, "Are Women Hiding Their Career Achievements From Potential Partners?" Cosmo argues that many women do feel compelled to play down their success at work to their partners. Lean In's Jessica Bennet writes that women feel that "to balance professional success with romantic appeal, they must soften their accomplishments — and their personality — when at home."
As Sharon Meers points out, "At work, if you lead a project or team, you are in charge. In a relationship, you have to take turns." It's important to figure out how to share the responsibilities of home life, even if a woman is always the team lead at work.
According to an informal Cosmo survey, more than half of the men surveyed thought success was an attractive quality in a woman, and 95% would be proud of a partner who got a promotion. Cosmo suggests that despite society's pressure surrounding women and work, most people - men and women alike - are ready for a change.
Sharon Meers is the coauthor of Getting to 50/50, now out in paperback and audiobook. Find her online at @Gettingto50_50, Getting to 50/50 Facebook, and http://www.gettingto5050.com. Currently, Sharon is the Head of Magento Enterprise Strategy, which is part of eBay Inc., a global commerce and payments leader. Formerly, Sharon was a Managing Director at Goldman Sachs.