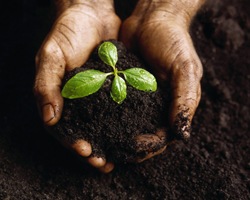 The Dream to Convert Waste into Gold
Houston, TX (PRWEB) March 11, 2014
A group of experienced experts in waste composting, irrigation, agronomy and bio gas energy have formed a team which aims to create practical programs to convert waste into food and energy. These experts are not scientists and engineers but rather practitioners, each armed with 20 plus years of expertise worldwide.
Sadly, most new technologies and innovative ideas don't evolve from big corporations. True innovations are born in college dorm rooms, café shops, small offices or home garages, like Dell, HP, Apple and Microsoft. These team members started their careers in similar ways over twenty years ago and have become leaders in each of their different industries.
The Team is focused on countries in Africa, Asia, Latin America and the Caribbean, where disposing of municipal waste, tires and animal manure are major health and civil issues. Most countries dispose of waste in landfills, which is very inefficient.
This program is the dream of every business- to converting waste into gold- but it is also the right thing to do.
The Program:
The program is designed to fit into the economy of any country with waste and the need to produce food, energy, and increase water efficiency in agriculture. The programs can convert municipal garbage waste into organic compost for agriculture or horticulture greenhouses which produce food. It can generate up to 25 megawatts of power from waste tires.
One of these programs can convert waste poultry manure into high quality organic fertilizer that will increase crop production by up to 50%. This program is the dream for the rural farm economy to create jobs in a new industry, new careers to increase the economy in the rural farm community, while producing more food.
These new technologies are packaged together for the first time with continuous management, teaching, and branding to assure product quality, success and education. Each program will include a teaching and career classroom/school to educate locals about these new technologies in efficient agriculture and water efficiency. The school will be linked to the local high school and university, as well as being webinar linked to other programs around the world. This will introduce locals to other farmers throughout the world to help and share information.
This program will also be the dream of any political leader, to help his people to raise their economy by creating local businesses and reducing costly imports or energy cost, and more important, it will bring him votes in the next election and the respect of his people.
The Team:
Michael Chaplinsky, the founder and president of Turf Feeding Systems, has had a passion to improve soil health and reduce water use for over 28 years. His Texas company is a world leader in fertilizer injection into irrigation, soil health and sustainable agriculture. His extensive background in efficient irrigation and soil health has taken him around the world working and speaking on water efficiency and efficient landscapes and agriculture.
His work in fertilizer injection in irrigation and improving plant and soil health enables irrigation water reduction up to 50%, reducing fertilizer and chemical use up to 70%, and reducing energy and labor, while improving crop production and plant quality.
Brian Donnelly has been in the business of waste composting for over twenty years and World Waste Systems was created in response to the global need to process Municipal solid waste quickly and inexpensively to achieve recycling rates as high as 95%. World Waste Systems is unique because it uses a highly efficient, low tech, sorting system coupled with a high throughput compost system that produces a range of nutrient rich organic composts without creating offensive odors.
The composting technologies include Static Pile Composting, Vermiculture, Phytoremdediation and Containerized Systems.
World Waste Systems has developed a proven recycling process to eliminate your mountain of MSW garbage. Through accelerated composting and organic conversion, they convert municipal solid waste materials into salable secondary by-products that support and promote sustainable development.
Mr. Donnelly also has an extensive background in organic soils and greenhouse vertical growing with his Florida company, Sun State Organics.
Both Michael Chaplinsky and Brian Donnelly spoke last month at the Global Forum for
Innovations in Agriculture.
Other team members include leaders in bio gas production from waste as well as experts in soil biology and plant genetics. The team continues to grow and diversify in experience and talents.
The team has a number of project proposals and invitations to governments and large agriculture groups worldwide.
This is an important program for any country that creates local businesses, jobs and careers to both urban and rural economies. It is sustainable full circle economics that will add economic value and livelihood to the lower and middle class farmer and worker. It is a new industry for any country that cares for its people.
Bio:
Michael Chaplinsky – President / Founder Turf Feeding Systems
Turf Feeding Systems - Houston Texas – USA - The world leader in packaged fertigation systems (fertilizer injection into irrigation) for golf, sports fields, landscapes, resorts and agriculture.
Mr. Chaplinsky has worked for over 25 years implementing water efficiency and sustainability into all types of irrigated projects around the world. He speaks at many conferences and lectures on sustainable soils, landscapes, golf and agriculture.
Mr. Chaplinsky has worked with the top scientists and engineers on project that include construction, revegitation, bio-remdiation and beach erosion. He brings technologies and practices together to promote plant and soil health, and create the values and benefits of sustainability