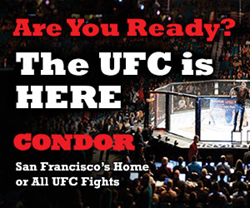 San Francisco, CA (PRWEB) March 10, 2014
Condor Club, San Francisco's home for all UFC fights, will be screening Johny Hendricks vs. Robbie Lawler on Saturday, March 15 live on pay-per-view.
This is UFC fight 171 and will start at 7 p.m. Customers can watch the upcoming fight live on Condor Club's massive 90-inch screens with sound.
"These guys train so hard, and they are at the top of their game" said Axel Sang, director of marketing for BSC Management.
The Condor has a long history and has remained a significant destination venue as a San Francisco icon. The club has a wide variety of patrons, including both men and women, and the UFC event has many loyal followers.
In this fight, Johny Hendricks, aka Bigg Rigg, is pitted against Robbie Lawler, aka "Ruthless." Hendricks stands 69 inches tall and weighs 170 lbs., while Lawler is 71 inches tall and also weighs 170 lbs. Hendricks is 30 years old and is from Ada, OK. Lawler is 31 and is from Coconut Creek, FL. Hendricks has a record of 15-2-0, a knockout rate of 47 percent and an accuracy of 48.98 percent. Lawler's record stands at 22-9-0 with 1 NC. He has a knockout rate of 82 percent and an accuracy of 42.61 percent.
Condor Club is "San Francisco's Home for all UFC Fights" and is the perfect place to watch and enjoy the fight. During fight times, Condor offers UFC specials, including a draft and wings for $9.95 or a draft and a burger for $9.95. These specials start at 6 p.m.
Condor Club screens a variety of UFC events, so keep an eye on their website for more information. The next fight they are showing is UFC 172 Jones vs. Teixeira on Saturday, April 26. To learn more about upcoming fights or about Condor Club, visit http://condorsf.com/. The Condor welcomes feedback from patrons as they strive to provide five-star service for all patrons.
"Our reputation is extremely important to us," said Sang. "The biggest compliment we can receive is return patrons and referrals. Our goal is to provide an outstanding experience and to do that we rely very heavily on the feedback of our customers."
About Condor Club:
Condor is San Francisco's original gentleman's club. In 1964, they became the first topless club in the United States. Since then, they have provided the Bay Area with quality adult entertainment and superior service. The club features a VIP lounge, champagne rooms, bottle service, topless dancing and concierge services, all in an effort to provide their customers with a special and exclusive experience. Everyone is sure to have a good time at Condor. With live music, a full bar and restaurant and topless adult entertainment, there's no better gentleman's club around. Condor Gentleman's Club is open 6 p.m. – 2 a.m. Monday through Wednesday and 12 p.m. – 2 a.m. Thursday to Sunday. For more information, visit their website at http://condorsf.com/.