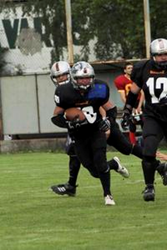 (PRWEB) March 11, 2014
The latest athlete profile from Fitness Life Stories continues the website's trend of bringing local athletes into the spotlight.
"We love to feature athletes from all levels of sport," says Julia Rockwell, an editor of Fitness Life Stories. "The recent article about Blaine Tucker is a great example of the kind of profiles that we like to write: ones where athletes take the values they learned in their athletic career and apply them in the community."
The Fitness Life Stories profile contains details about Blaine Tucker's time as the varsity quarterback for the South Brunswick Cougars of Southport, North Carolina.
"The Cougars faced a touch loss to Eastern Alamance at the end of the season," says Julia Rockwell. "Even though the team didn't get the playoff experience that they were hoping for, Blaine Tucker continued to lead the team with professionalism and good sportsmanship."
According to editors of Fitness Life Stories, the website strives to unearth fitness stories that inspire readers to take action in their own lives. To accomplish this goal, the magazine site regularly foregoes stories about professional athletes in order to cover the stories of people closer to the readership's real life experience.
Julia Rockwell commented, "There are many fascinating and inspiring professional athletes, and we try to give them their due respect, but the people who do the most to inspire our readers are scholastic and amateur athletes, because their stories are easier to relate to."
Fitness Life Stories hopes to follow up the recently published Blaine Tucker profile with stories from other members of the South Brunswick team and profiles of other high school quarterbacks that exhibit great leadership.
Active and sporty people who are focused on living a healthy and balanced lifestyle can always find engaging and topical fitness stories on Fitnesslifestories.com. Fitness Life Stories provides a forum that allows people to share and discuss the latest concepts and ideas on everything related to improving their fitness levels and healthy living.