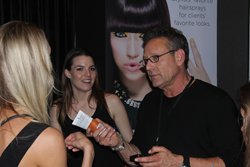 Los Angeles, CA (PRWEB) March 12, 2014
Celebrity Connected provides a direct line to the fastest, most effective technique to accrue product exposure through their access to influential celebrities. Creating show-stopping celebrations in conjunction with major awards shows in the Hollywood area, Celebrity Connected allows innovative products entry into exclusive events. The fun and exciting atmosphere of every event is perfect for companies to market their brand while networking with important individuals in the entertainment industry. Technology, apparel, lifestyle, cosmetic, culinary, and every other industry imaginable is on hand for these special engagements. By integrating a large collection of celebrities from all forms of media, businesses are afforded the luxury of pitching their product to luminaries from multiple demographics. Stars of cinema, television, music, and athletics all turn out for the best gifting suite service in Hollywood. With vast coverage over all markets in addition to exposure from media outlets reporting on the events, Celebrity Connected allows for an aggressive approach to publicity. Not only do companies in attendance engage with national retailers and distributors, but they also maintain rights to all photo and video captured at the event for their own marketing purposes. There is no other service that allows businesses the chance to put their product directly into the hands of the people that matter most in entertainment while offering a slew of promotional material. Already Celebrity Connected has events slated for March 28th, 2014 celebrating the Kids' Choice Awards® in Beverly Hills and April 12th, 2014 celebrating the MTV Movie Awards® in Hollywood.
Gifting suites can also become an entry point to further opportunities and services Celebrity Connected provides. A full service and comprehensive marketing firm, they assist and specialize in all facets of brand management. Looking to create strategies based around the clients' own goals and strengths, Celebrity Connected capitalizes on their own experience within promotion. Search engine optimization, content management, and social media campaign planning name a few of the many angles by which Celebrity Connected seeks to improve the standing of businesses within their industry. These services truly utilize every resource available to help businesses reach their next level of success.
For more information about Celebrity Connected, their events, and marketing services visit http://www.celebrityconnected.net or email them at info(at)celebrityconnected(dot)net.