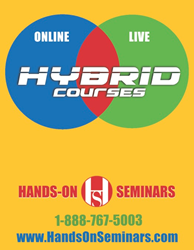 I finally found a program that can allow me to study on my own pace without compromising the hands-on experience needed.
Astoria, NY (PRWEB) March 11, 2014
Hands-On Seminars, Inc. (HOS)'s unique breakthrough in continuing education for physical therapists has been a work of passion for the two decade old organization. Founders Dr. Dimitrios Kostopoulos and Dr. Konstantine Rizopoulos have been seeking an optimal means of educating practitioners that creates a standard level of instruction and practice without taking too much time away from their livelihood and practice.
According to HOS surveys of Physical Therapy professionals, the biggest problem with continuing education is the time it takes them away from their practice. Hands-On-Seminars decided to do something about that problem. After all, continuing education keeps them up-to-date on advances in the field and it is imperative that they get that information and skill sets.
Sarah Quintillan, a licensed physical therapist in Queens, NY, is a mother of two and works six days a week. "My passion is to learn manual therapy but my life is so busy and complicated that I never have time to go to courses. I am so happy that I finally found a program that can allow me to study on my own pace without compromising the hands-on experience needed for a manual therapy course"
The Hybrid Interactive Education System combines the advantages of online education with the expert guidance and hands-on experience from Practical Workshops utilizing a unique Problem-Based Learning (PBL) procedures, guaranteeing 100% standard technique application!
"The HOS Hybrid concept is designed to provide flexibility in learning without compromising the practical experience that is so necessary for a manual therapy course" stated HOS Co-Founder Dr. Dimitrios Kostopoulos
Knowing how busy physical therapists are as well as how important continuing education is HOS has created the best of both worlds. Now students can study at their own pace and schedule while still getting the clinical practical experience necessary especially in courses of manual therapy. The regional Practical Workshops are conveniently located throughout the U.S. Moreover, the Hybrid Interactive Education System is truly tailored to their needs and schedule.
Getting their MCMT Certification Hybrid Style is as easy as 1-2-3. Students simply:
1) Take the ONLINE portion of the course including Theory, Technical Demonstrations, Clinical Case Studies, Evidence Based Clinical Scenarios, Research Studies, and Interaction with Faculty. Do it at their own pace from their computer, tablet or iPad.
2) Attend a 1-day Practical Workshop for each course completed. Practical Workshops are Problem-Based and Evidence-Based experiences offering PTs the confidence of best technique application.
3) Take the final Review Course with the final exam and join the thousands of MCMT graduates around the world.
Hands-On Seminars, Inc. (HOS) is the leading international continuing education organization in the world, awarded the Lecture & Seminars Award as the best Lecture and Seminar Company from the Lectures and Seminars Bureau over the past two years. Their purpose is to provide the best quality Manual Therapy seminars at an affordable cost. For further information, please contact: Basilica Phocas at 888-767-5003 or info(at)handsonseminars(dot)com.