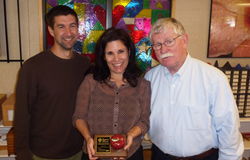 This is the first time we've honored two educators for the 'Teacher of the Month' award.
Mesa, Arizona (PRWEB) March 12, 2014
A husband-and-wife teaching team from Mesa is this month's Excellence in Education winners from Taylor Morrison and KEZ 99.9 FM.
The Arizona homebuilder and Phoenix radio station are partnering to highlight one outstanding Valley educator during the 2013-2014 school year as part of the radio station's "Excellence in Education" recognition program.
This month, husband-and-wife teaching team Cassi and Pete Mackey from Montessori Education Centre will receive an "Excellence in Education" plaque from Taylor Morrison and KEZ 99.9, $99 and a prize for their dedication to teaching and the impact they have made on their mixed class of fourth, fifth and sixth graders.
"They treat each child as an individual," said Tracy Vilkauskas, nominator of the pair and mother of one of their students. "They pay close attention to the ways in which each child learns, socializes and processes emotions. They advocate and teach not just curriculum, but tolerance, respect and courtesy."
Using alternative teaching programs such as Create Your Own Possibilities and Hold the Rope, the teaching team helps their students develop the responsibility, accountability and coping skills needed to help them grow into mature and healthy adolescents.
"Cassi and Pete are not bogged down by 'social norms'," Vilkauskas said. "They work tirelessly to create a community of strength between parents, students and teachers."
The duo has been working together for 10 years and Cassi, who doubles as the school's principal, says the unique mix of ages in the classroom gives students an opportunity to learn in a real world setting and provides a support system for their students.
"This is the first time we've honored two educators for the 'Teacher of the Month' award," said Bob Thompson, vice president of sales and marketing for Taylor Morrison's Phoenix Division. "It's terrific to see this type of teaching arrangement that not only prepares these children for the next stage in their education, but also is giving them life skills that will provide guidance for the rest of their lives."
Previous winners have included Jeremy Rubel of Copper Trails Elementary School, Monique Pena of Charlotte Patterson Elementary School, Julie Pascal of Diamond Canyon School, Chris Whitehead of Freemont Junior High School, Cindy Cordts of Oakwood Elementary and Michelle Capriotti of Charlotte Patterson Elementary.
Each month, KEZ's Marty Manning surprises the new winner with a visit and presents them with their Excellence in Education award. The visit is broadcast during the" Beth and Friends" morning show, which airs weekdays from 5-10 a.m.
At the culmination of each school year the "Teacher of the Month" winners are invited to attend a banquet at The Capital Grille in Phoenix where $999 will be awarded to one special educator.
For more information or to nominate someone please visit http://www.kez999.com.
For more information about Taylor Morrison and its communities, please visit http://www.taylormorrison.com/phoenix.
About Taylor Morrison
Headquartered in Scottsdale, Arizona, Taylor Morrison Home Corporation operates in the U.S. under the Taylor Morrison and Darling Homes brands and in Canada under the Monarch brand. Taylor Morrison is a builder and developer of single-family detached and attached homes serving a wide array of customers including first-time, move-up, luxury and active adult customers. Taylor Morrison divisions operate in Arizona, California, Colorado, Florida and Texas. Darling Homes serves move-up and luxury homebuyers in Texas. Monarch, Canada's oldest homebuilder builds homes for first-time and move-up buyers in Toronto and Ottawa as well as high rise condominiums in Toronto. For more information about Taylor Morrison, Darling Homes or Monarch, please visit http://www.taylormorrison.com, http://www.darlinghomes.com and http://www.monarchgroup.net.